Following in her father's footsteps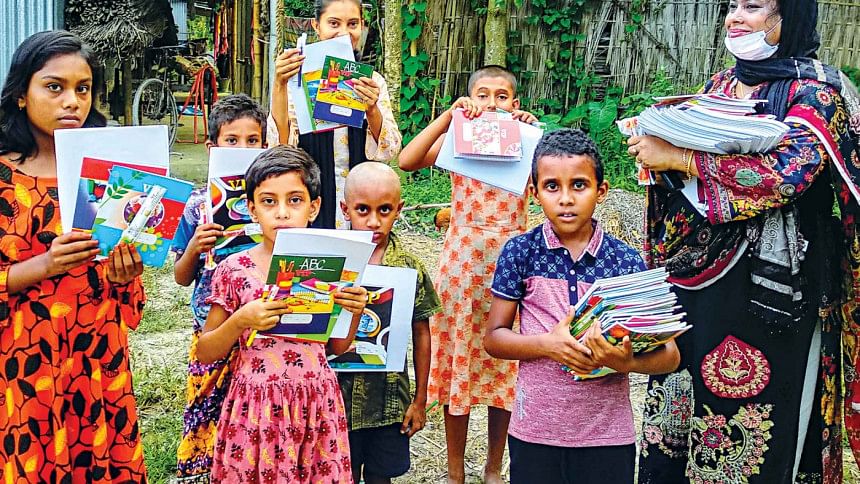 Fauzia Beethi is not a political figure in her area, but everybody knows her in Bogura's Dhunat upazila for her philanthropic works.
An assistant teacher at Belkuchi Government Primary school, Beethi has been providing assistance to hundreds of distressed and unprivileged women and children in the upazila in the last 21 years.
When Covid-19 hit the country, Beethi started making three-layer fabric masks and distributing those among people in villages. 
In order to create awareness, she went to different locations, including government offices, hospitals, clinics and markets in the upazila, to distribute the masks.
Beethi distributed around 10 thousand masks so far. She also produced 400 bottles of hand sanitizers with the help of local physicians and pharmacologists and distributed those to the unprivileged who worked in health sector.
During the months of lockdown, Beethi provided 350 families with relief packages containing 18 kilograms of food, including rice, lentil, cooking oil and onion.
In April and May, she scarified two goats -- reared at her home -- and distributed the meat among 93 families who did not receive government assistance. 
About the source of her of philanthropic expenses, Beethi said she is privileged to have been able to spend all her salary in social works during the lockdown months, as her husband, a lawyer at the Supreme Court, helps her with household expenses.
During the last two Eids, she spent her entire bonus money and salary to buy clothes for the poor, especially for students at her school and for their parents.
"I learned to help people from my childhood. My father, a high-school teacher who sacrificed his whole life serving the needy, taught me to help the people in need," she added.
Beethi's husband Razzakul Kabir Biddut said, "I never questioned her about her salary. Rather, I send her Tk 15 to 20 thousand a month for the family expenses. I always encourage her philanthropic works and I feel proud of my wife."
Arzina Khatun, a resident of Belkuchi village, said Beethi is there whenever the villagers need her. "If someone in the village falls sick at midnight and calls Beethi apa, she will take the patient to hospital." 
Three years ago, when her daughter was badly beaten up by her husband and his family, Beethi took her to hospital and bought her food and medication for the next five days. Beethi also helped her get legal support, said the woman.
Beethi, now in her forties, said domestic violence and abuse by her first husband inspired her to reach out to victims of similar violence.
In 1998, three years into the marriage, her first husband beat her unconscious over his demand for dowry. Beethi said, "I was senseless for three days at the hospital after the incident. I [finally] divorced him and married Razzakul a year later.
"My life's lesson always gives me the spirit to fight for oppressed women. I will serve the poor and the oppressed till the end of my life," added Beethi.
On December 9, 2020, in recognition of her humanitarian work, Bogura district administration conferred Joyeeta award on Beethi. 
Ziaul Haque, the deputy commissioner of Bogura, said Beethi has become an example for all, by displaying how one can bounce back in life. "We wanted to send a positive message to the society by recognising her."