Feed crisis worries cattle farmers before Eid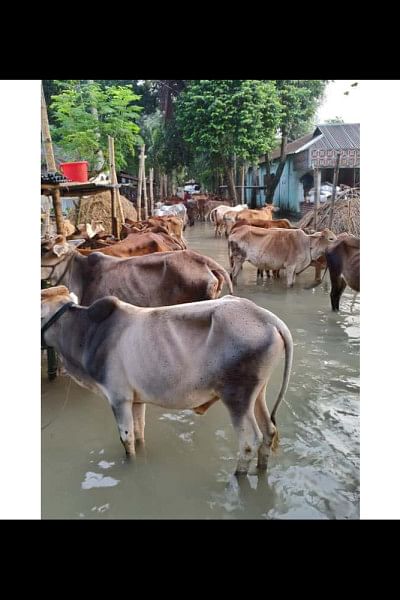 Cattle farmers in flood-affected northern districts fear incurring huge losses from sale during upcoming Eid-ul-Azha.
Most of these farmers have been rearing the animals for around 10 months so they can sell those at sacrificial animal markets for the Eid. 
Now the farmers foresee a bleak prospect of making any profit from the cattle as most of the animals are showing signs of malnourishment due to feed crisis amid the ongoing floods across the country. 
Supply of cattle feed hit a snag after large swathes of croplands as well as feed stores at regional markets went under floodwaters. 
After the floodwater started to enter cattle sheds, the farmers moved the animals to nearby high ground such as roads and embankments. But, with all communications already broken down, they now worry how they would save the animals from dying of hunger.
Karim Mia from Kholabari Char village in Phulchhari upazila said he was finding it extremely difficult to feed his five animals properly and find a suitable dry land for those.
No prospective buyer would be able to see the animals being reared by different cattle farmers if the surrounding areas remain flooded. And, if the situation does not improve before the Eid, the farmers might have to sell the animals at reduced price despite huge loss, said Rafiqul Mia, a cattle trader from the area.
When floods inundated his house and cattle shed, Dilbar Hossain from Kabilpur village started staying on Singria-Ratanpur levee with his wife and two children. The family also brought along their three cows with them on the levee. 
"It's already difficult to gather food for the family [under the circumstances]. How would I find feed for the cows?" he said. 
He also said he had hoped to make at least Tk 40 thousand from each animal this Eid, but unless the flood water recedes soon, he might have to sell those for half the price.