Farming in Bagerhat: Covid-19 could not hold down cucumber growers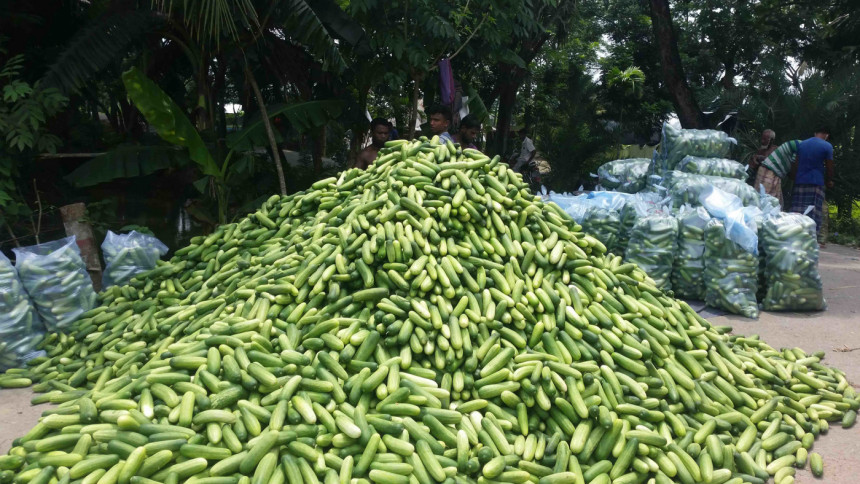 When farmers in many areas in the country are struggling to market their produce amid limited access to wholesale markets due to pandemic scare, cucumber growers in five upazilas in Bagerhat are delighted to be able to sell the produce for not just good prices, but right from the field too.
According to Department of Agricultural Extension (DAE) in Bagerhat, the five upazilas -- Kachua, Bagerhat Sadar, Chitalmari, Fakirhat and Mollahat Upazilas -- of Bagerhat saw a good harvest of cucumber this year. But the growers there are not seen much worried about selling the produce as wholesalers are buying truckloads of cucumbers from them every day.
The roads in the five upazilas these days are seen filled with hundreds of cucumber-laden trucks heading towards different towns and cities. The cucumber farmers are also happy that the abundant supply did not cause the price to fall.   
They said it takes about 30 to 35 days for a cucumber plant to bear fruits and they nurture the plant for another 35 to 40 days before plucking the crunchy vegetables that are a popular salad ingredient across the country. Their daily harvest from a cucumber garden is about seven to eight maunds.  
The DAE said more than 50,000 tonnes of cucumbers will be produced in Bagerhat this year and Chitalmari, among the five upazilas, so far has the highest production. More than one hundred trucks are transporting cucumber from these upazilas every day to large cities in the country.
This year the cucumber growers are making higher profits as the traders are buying the produce directly from the field, cutting off the middleman, the DAE also said.
Chitalmari upazila's Bishwajit, from Ashoknagar village, spent about Tk 3 lakh this year to cultivate cucumber on 10 acres of land.
He said he has been selling 90 to 100 maunds of the produce every day and if the sales remain as healthy as this, he hoped that he would make Tk 10 lakh in profit this year. 
Another farmer, Shishir Das, from Kachua upazila, said he started selling his harvest, from one bigha of land, 12 days back.
The yield is higher this year and he is getting Tk 10 to 15 higher for each kilogram of cucumber.
Many of the cucumber growers said although they were not able to sow the seeds in time due to the Covid-19 situation, the weather condition favoured for a higher yield this year.
Also, the timely advice and support extended by the DAE in the district contributed to the success.
DAE Deputy Director in Bagerhat Raghunath Kar said they have been putting emphasis on cultivation of vegetables in the district and with that goal in mind, they have been maintaining the supply chain for a timely and steady flow of seeds, fertilisers and loans. 
The efforts paid off and production of various vegetables, including cucumber, saw very high yields this year, he added.