Farming in Barind Region: Entrepreneur shines in Arabian date cultivation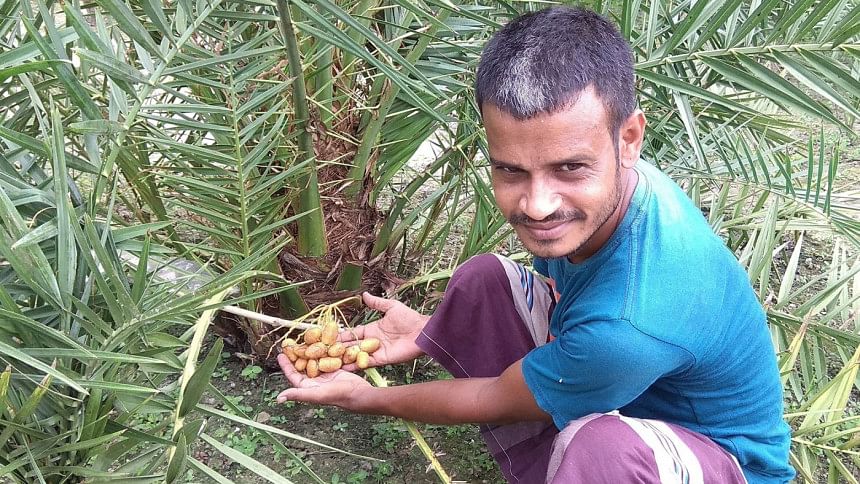 Even before the trees are fully matured to bear fruits, a young entrepreneur has fully recovered his investment of Tk 9 lakh by just selling tree saplings of Saudi Arabian dates.
His vast orchard, full of three thousand date plants of different varieties on 90 decimals of land in Barind region of Nachole upazila, is now an inspiration for many others.
Barind is an area in Chapainawabganj, where the reddish soil is rough, dry and arid. 
Obaidul Islam Rubel, aged 31, started setting up the orchard on his land in Bherendi village of Nachole upazila after his relative Raisuddin Mirza, who works in Saudi Arabia, sent one thousand seeds of different Saudi Arabian date verities in 2017.
Following Raisuddin's advice, Rubel succeeded in growing 600 saplings from the seeds. Rubel later received more seeds, from which he grew all the rest of the saplings for the orchard.
The plants mature in five years and he hopes to harvest 100 kilograms of dates from each mature tree every year, said Rubel.
But before selling the fruits commercially, he has already sold 7,000 date saplings for a total of Tk 9 lakh, which is how much he had invested in the orchard so far. 
Depending on the variety, the sapling prices range between Tk 250 and Tk 5,000. He also made Tk 3 lakh from the sale of three fruit bearing date trees.  
Encouraged by Rubel's success, many locals over the last couple of years have come forward and invested in large-scale exotic date orchards in the Barind area.
Tohirul Islam, from Bandra village in the same upazila, is among them. He made an orchard of exotic dates on 33 decimals of land.
He said in his orchard, he already planted 250 saplings that he bought from Rubel and he will buy 200 more saplings from him this year.    
On what grounds he decided to risk such a large sum of money in an arid land, Rubel, who passed HSC in 2007, said climates in Suadi Arabia and Barind region in Bangladesh are almost similar. "If so much sweet dates grow there, why won't they grow here?"
Besides, after watching different videos on date farming techniques on the internet, he grew confident that there is a great potential in producing dates and its saplings in the country.  
It took hard work and help from his father to prepare the land for planting the saplings in the orchard. Finally, many of the date trees in the orchard started producing fruits in small quantities since last year and this year, they plucked 10 kgs of dates.
Saplings sprout from date trees from the second year and when fruits start to develop, they need to be covered with polythene bags, for protection from hail or rain, Rubel said.
Ajwa, Khelus, Helalee, Mariam, Ambar, Nakhal, Halwa, Darida, Shukkari and Barhee are some of the date verities currently being grown in his orchard. Among those, Ajwa is the most expensive, while Helalee has the highest yield.
The dates grown in his orchard are sweeter than the imported varieties available in the market, Rubel said, adding that he would expand his orchard next year as he anticipates greater yields in coming years.
Jahirul Islam, germ plasm officer at Horticulture Centre in Chapainawabganj, said the climate in Barind region is suitable for date trees and if the produce grown there is of high quality, more exotic date orchards will be set up there.