Customs office runs in rented building
Importers need to travel 50 kilometres to get done with paying duties in Patuakhali town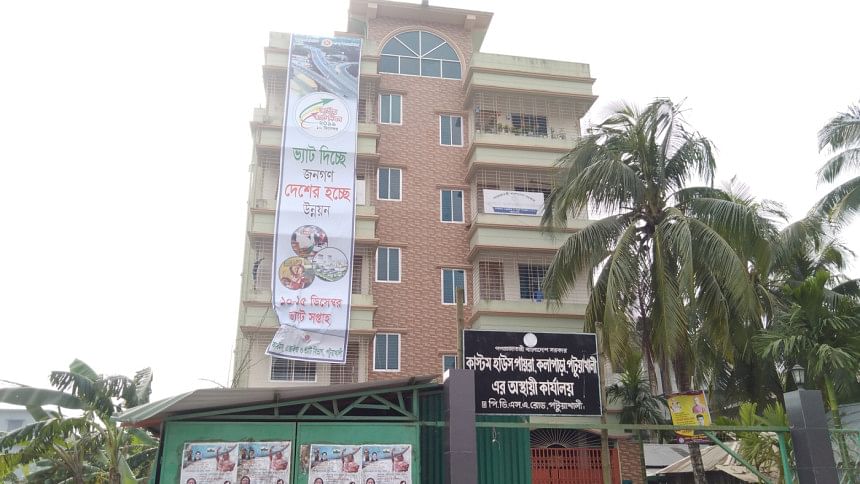 Since inception in 2016, the Payra port authorities have been running their custom house at a rented house in Patuakhali town, some 50 kilometres off the port, much to the inconvenience of importers and exporters.
The land ministry is yet to take step on an application seeking land for construction of a custom house that the port authorities had submitted almost four years ago, said Md Habibur Rahman, assistant commissioner of the custom house.
"In a letter sent in February 2016, we sought 40 acres of land to build a custom house that would accommodate not only the office but also residential facilities, warehouse and laboratory. But it was never approved.
"To make the port more dynamic, a permanent office needs to be set up in vicinity of the port. That will spare the businessmen from unnecessary hassle," Habibur added.
The port these days remain busy with loading and unloading of coal as a coal power plant is currently under construction nearby. A 660-megawatt unit of the plant is scheduled to be inaugurated in January 2020.
Coal importers have expressed annoyance as they need to travel 50 kilometres to Patuakhali town to get done with paying duties through banks.
"Custom house and banking facilities should be arranged in vicinity of the port to serve the interest of businessmen and port users," said Mohiuddin Ahmed, president, Patuakhali Chamber of Commerce and Industry. "The Chattrogram and Mongla port have already launched online duty paying systems," he added.
Prime Minister Sheikh Hasina laid foundation of the Payra sea port in November 2013 at Tiakhali in Kalapara upazila. Its operation kick-started in August 2016.
Until November this year, 43 foreign ships have been loaded and unloaded at the port and the custom house have collected over Tk133.28 crore as revenues.