Cricket coach Amir Babu fighting for life, seeks PM's help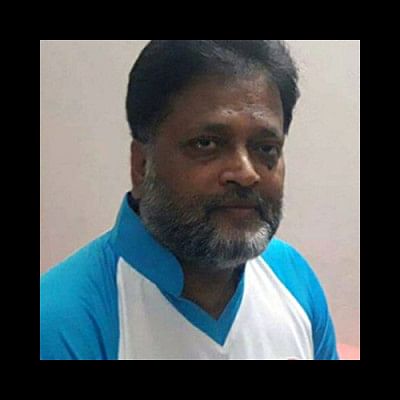 Cricketer-turned-coach Amiruzzaman Babu who is fighting for life after his both kidneys got damaged has sought the prime minister's help for kidney transplantation.
"I don't want to lose in my battle for life, I want to survive and return to the field for taking ahead further the country's cricket. So, I seek the help of our honourable prime minister, who is an avid cricket fan, for kidney transplantation," said helpless Amir Babu, a former cricketer of Dhaka Azad Boys Club and a popular face in the sports arena in Madaripur.
Amir Babu, a promising fast bowler in the 80s, played for Dhaka Azad Boys Club from 1985-86 to 1987-88 seasons and his club was promoted to the Premier Cricket League in 1987-88 from the First Division Cricket League.
He picked up 69 wickets in his three-year stint with the Azad Boys Club. He also played for Dhaka University in 1987 when the country's premier university became unbeaten champions in the Wills National Cricket League.
Amir Babu was also selected for the national camp for the Asia Cup Cricket in 1988. But he could not make his innings long as he was unexpectedly affected by kidney ailments in February 1988.
After suffering from chronic kidney disease (CKD) for long 32 years, he started taking dialysis thrice a week from this April.
Amir Babu, the general secretary of Madaripur Cricket Clinic, told BSS that he has contacted a Chennai hospital in India for transplantation of his kidneys.
"The hospital authorities have asked me to manage at least Taka 20 lakh for this purpose. But unfortunately, I've no ability to arrange such a big amount of money," said the 51-year-old Amir Babu.
Though Amir Babu was affected by kidney ailments 32 years back, he never backtracked from building cricketers through the Madaripur Cricket Clinic.
Cricketers like Habibul Bashar Sumon, a present selector of Bangladesh national cricket team and a former skipper of the national team, and M Hasan, the BKSP's head coach, were groomed up by Amir Babu, also the general secretary of Cricket Welfare Association, Madaripur (CWAM).
Apart from imparting training, Amir Babu helped many cricketers of Madaripur by offering scopes to play for different Dhaka clubs and providing sports gears.
He established the Madaripur Cricket Clinic in 1989 and imparted training to over 1,200 cricketers over the last three decades.
But now Amir Babu is going through serious financial crisis as he is now fully unable to work due to illness.
"Cricket is everything of mine. So, I want to continue my contributions to the game's development until my death," he said.
Amir Babu's wife Tahmina Sultana said her husband dedicated his entire life to the development of cricket in Madaripur. "Cricket was his dream and passion. But he now cannot go to the field for his complicated illness," she said.
Tahmina continued, "If his kidneys are not transplanted within two months, he may no more be able to return to the play ground."
In this situation, she has requested the prime minister as well as the well-off people of society to come forward and extend helping hands for kidney transplantation of her husband.
Anybody can donate to the following bank account: Md Amiruzzaman Amir Babu, AC No. 00480310000043, NCC Bank, Madaripur Branch.