Covid-19 pandemic: Volunteers set up isolation centre for poor patients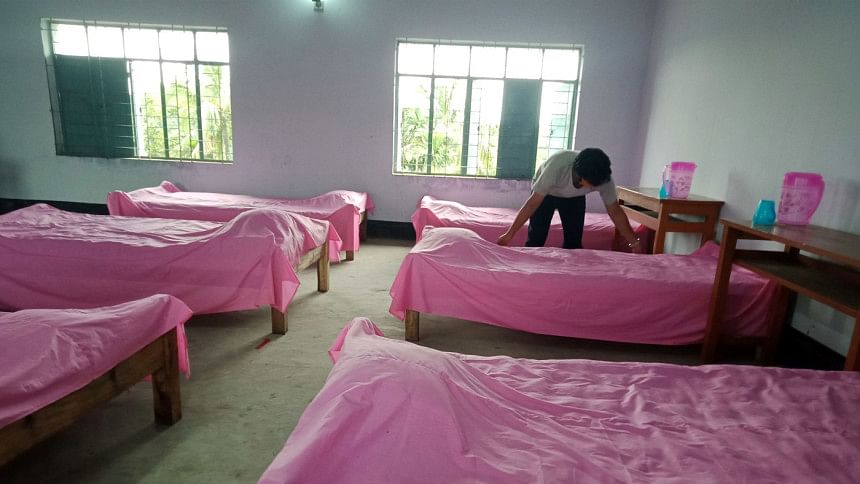 A group of volunteers has arranged a 20-bed isolation centre to support the poor and helpless Covid-19 patients in Phulpur upazila of Mymensingh.
HELDS Foundation, working for health, environment and literacy in Phulpur, made the arrangement at three rooms on the fourth floor of Phulpur Degree College, under the supervision of local administration.
Phulpur Upazila Nirbahi Officer Md Saiful Islam inaugurated the centre on Friday. However, no patient went to the centre styled "Shanti Nagor" as of Monday.
"We took the initiative for poor and helpless Covid-19 patients who do not have the facility of isolation/quarantine at their home, said 22-year-old Tasfique Haque Nafew, secretary of the foundation.
"We are doing the work with contribution of our own and the local administration. So far, we have spent Tk 74,000 to arrange 20 beds with mattress and four oxygen cylinders," said Nafew, a degree second year student.
"Of around 100 volunteers of the foundation, 30 including 10 female members have been selected to work at the isolation centre. A few of them will continue duty under three shifts a day for a week and then they will go for home quarantine for 14 days. A doctor and a nurse agreed to work with us voluntarily," said Sabina Yeasmin Madhobi, a volunteer.
The people who will be kept in isolation will get balanced diet and medicines with facilities of physical exercise and recreation, said Sabina, a graduate from Dhaka University.
"The doctors at Phulpur Upazila Health Complex will keep contact with the isolation centre round the clock. If the condition of any patient there deteriorates, we will take next course of action immediately," said Dr Pranesh Chandra Pandit, resident medical officer of the hospital.
Abdullah Al Sayeem Lithu, president of HELDS Foundation, said they started the initial work with a plan to arrange 500 isolation beds in different areas including 50 in Phulpur for poor Covid-19 patients.
Twenty-eight Covid-19 patients in the upazila are now staying in home isolation and HELDS volunteers are serve their daily essentials when they need, said volunteer Jannatul Ferdous Swarna, an honours second year student.
The solvent ones pay the cost while the helpless are served for free, she added.
"I and three members of my family were tested Covid-19 positive last month and volunteers of the foundation helped to get daily essentials at our home," said Rokeya Parvin Lucky, female vice-chairman of Phulpur upazila parishad.
Since the outbreak of Covid-19, the foundation has continued work for creating awareness among the people about personal protection, spraying disinfectants at public places and distributing relief materials among the needy, said Phulpur municipality Mayor Md Aminul Haque, also an adviser to the foundation.