Construction of hotel in Chimbuk Hill: Hundreds of Mros take part in long march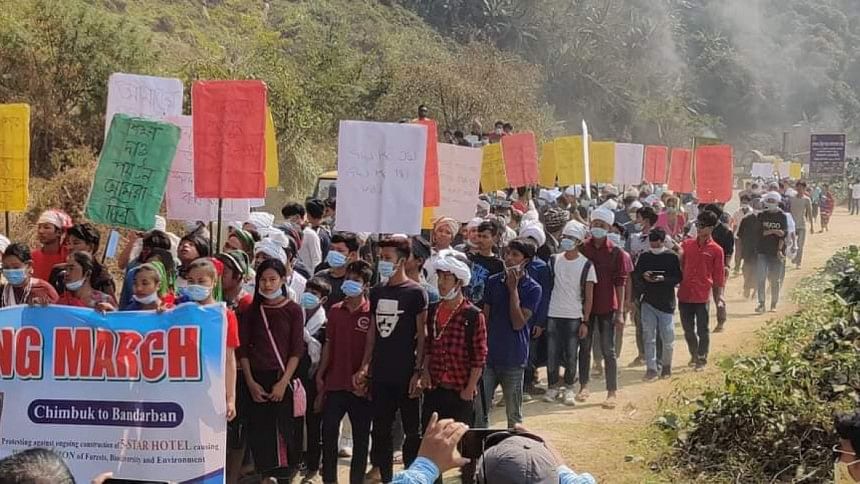 Hundreds of members of the Mro community brought out a long march today -- from Chimbuk Hill to Bandarban town -- in protest against construction of a five-star hotel and tourist spot in Chimbuk Hill, which they believe is "a threat to the forest, biodiversity and environment of the area".
The long march, which started at 9:00am this morning, was set to walk 28km in favour of their demand, reports our local correspondent quoting the protesters.
The protesters alleged that the Mro community of Chimbuk Hill is passing their days in uncertainty as influential persons grabbed their jhum lands.
"How will Mro people survive in the hills if influential persons grab their ancestral jhum land?" asked protester Younguang Mro.
Calling upon the government to show respect to the CHT Accord and fundamental constitutional principle of protecting cultures, he demanded to stop constructing the ongoing five-star hotel project at Chimbuk Hill.
The initiative, if implemented, will directly affect six villages of the Mro community and indirectly affect another 70 to 116 villages of the community, claimed another protester.
The protesters also claimed that the initiative will leave around 10,000 jhum cultivators landless, adding that the area also includes cremation site of the community.
Protesters alleged that 'Sikder Group' is trying to grab about 1,000 acres of jhum land from Kapru Para Bazar to Jiban Nagar in the name of constructing a hotel and a tourist spot.
They alleged that Kwe Shwe Hla, chairman of Bandarban Hill District Council (BHDC), leased out 20 acres of their jhum land for the project without any discussion with the locals and risking indigenous life in the area, which was nothing but betrayal.