Char people build bamboo bridge on self-help basis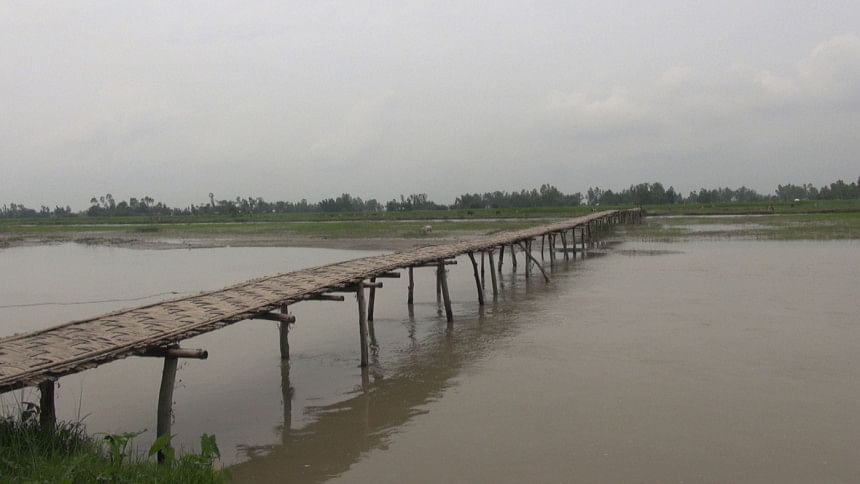 People in a remote char area voluntarily have built a bamboo bridge on a canal of the Teesta river to ease communication between Harinchara Majherchar in Lalmonirhat Sadar upazila and the mainland in Haragachh area of Rangpur's Kawnia upazila.
In May this year, char people in Khuniyagachh union of Lalmonirhat Sadar upazila have joined hands for construction of the 200-metre-long bridge on the river canal in the union.
As a makeshift arrangement, a bamboo bridge on the river canal has been made for the first time to ease people's longstanding sufferings, said locals, adding that it finally has brought smile to people in the remote area.
Bazlur Rahman, 65, a farmer of Harinchara Majherchar in the union, said they have been urging the local public representatives for years to build a bridge on the canal to mitigate their longstanding sufferings but nobody did pay heed to the matter.
Finding no other way, they have voluntarily built the bamboo bridge on the canal of the Teesta river to ease their communication, he said, adding that the char people are now very happy to get the bridge.
They now can easily carry their agriculture produces after the bamboo bridge was built, said farmers in the char area, adding that earlier they had to suffer a lot for not having any bridge there.
The bamboo bridge was built at a cost of Tk 2 lakh, said the growers.
Char people collected donation and gave their inputs to build the bridge, said another farmer Abdul Awal, 48,  of the same char area, adding that they willingly came forward to supply bamboo, wire and nails to build the bridge.
The char people also willingly provided financial support to build the bamboo bridge, he said, adding that agriculture work has now gained momentum in the char area after the bridge was built.
Especially during the monsoon, the char people suffer much as they have to cross the canal of the river by dingy amid risk, said Abdul Awal, adding that it is really a hard task to build the bridge on self-help basis but finally it happened and local residents are now very happy.
The char people have also urged the authorities concerned to build a permanent bridge on the canal.