Caught in the cycle
Women of Pirojpur suffer due to lack of income opportunities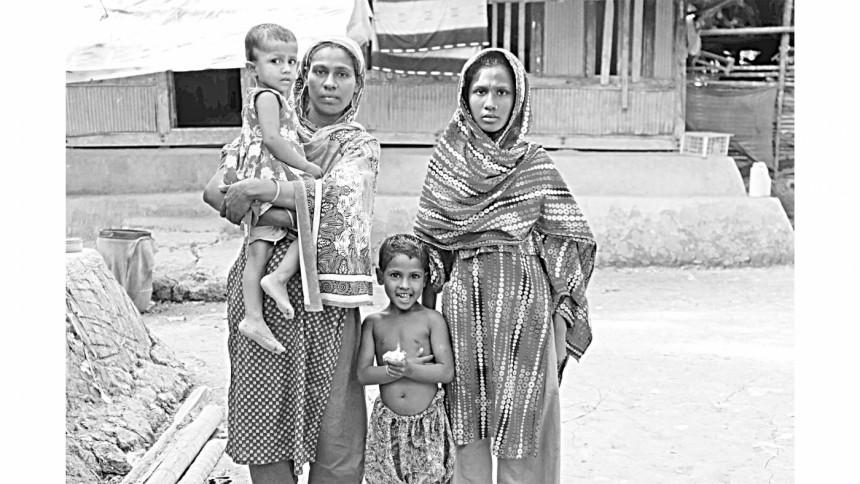 "Without his income, we are powerless," says Nasima Begum, 30, a resident of the Kholpatua village in Pirojpur, when speaking about her husband, a day labourer. Nasima was married off at the tender age of 13, after finishing her primary education. Now, she is the mother of three children and is struggling to bear the cost of five family members.
Due to a lack of income sources, the women of Pirojpur are denied access to education, forced into child marriages, and lack the economic mobility required to attain some semblance of independence.
"I have tried looking for a job so many times. But because there are no opportunities for women, I am forced to rely on my husband financially. My mother also had a similar situation where even though she wanted to help my father, she could not find any income generating activities," says Nasima, adding, "My parents were forced to marry me off at the age of 13 because they could not bear my expenses. Now my daughter, who is in the seventh grade, will also have to face a similar situation."
Such is the tale of the women of Pirojpur, a coastal district. They suffer silently. They are forced to choose between child marriage and their survival.
The men of Pirojpur earn their livelihood by either fishing or working as day labourers. The income is only enough to help their families survive the cruel grip of poverty.
"My parents got me married at the age of 14 when I was a student in the seventh grade. They couldn't continue funding my studies," says Arifa Begum, 18, from Uttar Kalaron village of Indurkani Upazila.
The disparity in economic power also leads to women being unable to make critical household decisions.
"As we don't have any earnings, any suggestion we make is rarely given any weight by our husbands," shares Fazila Kajal, a housewife from Kalaron village in the Upazila.
"If we were provided with adequate training on skills that can help us become economically independent, or even support from the government to help us establish our own businesses, such as cattle farming, we could start earning money by ourselves, and help by contributing financially to our families," says Ayesha Begum, a local housewife. 
Lucky Begum, a Union Parishad member from the Chandipur union in the Upazila, said that half of the area's population comprises women.
"While in most cases, men are the ones supporting their family, this puts all the burden on one member of the household," she says. "The government should try and provide opportunities for women. Otherwise, we'll continue to repeat the same cycle. And when providing these opportunities and facilities, the government needs to ensure that it is done transparently so that no form of funding or facilities can be misused illegally," she continues.
Howlader Moazzem Hossain, Chairman of Indurkani's Pattashi Union Parishad, said, "The facilities in place are inadequate. The government should reach out to these women and help mobilise them through various programmes. The voices of the local women need to be heard and be taken into account when facilitating economic opportunities for them."
Khaleda Akter Hena, Organising Secretary of Pirojpur district unit of Mahila Parishad, stated, "We cannot move forward without strengthening half of the population economically. If we talk about this on a national scale, then why not here as well? We have to make sure we truly maintain the motto of 'Leave no one behind' and ensure that the women of Pirojpur are also provided with the opportunity to stand on their own."
An important part of the process of helping these women, as well as the locals of Pirojpur in general, is to create opportunities for them to be self-sufficient. The people living in these areas need to be consulted on what kind of programmes and facilities can help them. The local government and administration should allow social audits led by locals to ensure that their concerns are being addressed through the programmes established.
The government has to ensure access to information regarding income opportunities, such as loan facilities, training, entrepreneurship development, etc.. Union Parishad Digital Centres should be leveraged as the medium through which the local people can be informed about relevant services and opportunities.