'Can't explain this joy': Rayhan Kabir returns home from Malaysia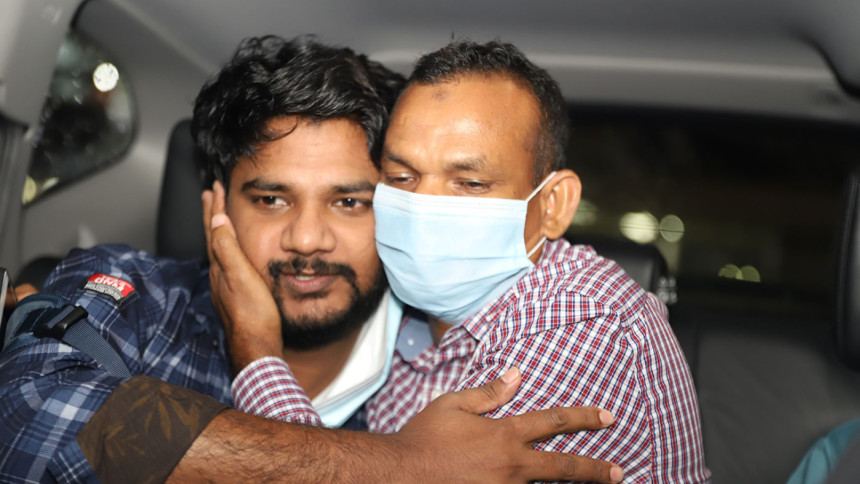 While most people in Dhaka are asleep, Rayhan Kabir's parents' wait is finally over. The young Bangladeshi, who was arrested in Malaysia, has returned home.
Rayhan landed in Dhaka on a Malaysia Airlines flight MH-196 at 1:00am on Saturday (August 22). His Father Shah Alam broke down in tears after finding his beloved son at the airport. The moment when father and son embraced each other touched everyone who was there. The joy some tears contain cannot be understood without experiencing it.
At the airport, Rayhan's father told The Daily Star, "We were eagerly waiting for our son to come to us. He's here now. We have the Eid moon in our hands!"
How does he feel? Rayhan's quick reply was, "I can't explain this joy. How many times have I come and gone in the last six years! This time it feels different. My Bangladesh, my motherland, my mother, my parents… I can't explain this feeling to anyone. Gratitude to all of you. Gratitude to all who were by my side at home and abroad."
Rayhan's lawyers in Malaysia -- Sumita Santini Kisna and Selvaraja Chinniah -- communicated the developments to The Daily Star before the flight yesterday. Sumita said Rayhan was taken straight to the airport from the Putrajaya immigration office on Friday afternoon. After completing all the procedures, he was taken on a plane at 11pm local time in Malaysia. Earlier, his coronavirus test came negative. Since the Malaysian police have not filed a complaint against Rayhan, he did not face any legal trouble.
On July 3, Al Jazeera published an investigative documentary titled "Locked Up in Malaysia's Lockdown". It raised the issue of the government's repressive treatment of migrant workers in Malaysia during the lockdown. In the documentary, along with the citizens of many other countries, Rayhan also gave an interview, which angered the Malaysian authorities.
A warrant was issued against Rayhan. He was arrested by Malaysian police on the evening of July 24. After 14 days of interrogation, the police produced him in court on August 8. The court granted a 13-day remand if the police wanted a 14-day remand. After the remand ended on Wednesday, police said there were no charges against him. Immigration police then decided to send him back to Bangladesh.
Rayhan was informed on Friday morning that he would be sent back to the country at night. Earlier, his luggage and other necessary items were brought there and his ticket was confirmed.
Before arrest, Rayhan sent a WhatsApp message where he said, "I did not commit any crime. I did not lie. I have only talked about discrimination against the migrants. I want the dignity of migrants and my country ensured. I believe all migrants and Bangladesh will stand with me".
Even during interrogation, Rayhan told the Immigration Police that he spoke about what he had seen and that was his own observation. But he did not want to hurt Malaysians.
Different international and Bangladeshi organisations, including Human Rights Watch and Amnesty International, have condemned the arrest and demanded Rayhan's immediate release.
Rayhan Kabir's family of four lives in Bandar upazila of Narayanganj. Locals said he used to help students with his books and money. He was very vocal against drugs in the area.
On the way from Dhaka to Narayanganj, the question was for Rayhan -- he had to face so much trouble, he had to stay in police custody for about a month, now will he move away from his previous position? With a smile, Rayhan replied, "Not at all. I don't want to change myself. I will try my best to serve people."
The writer is a freelance journalist.