Buriganga launch capsize: Moyur-2 launch supervisor placed on 3-day remand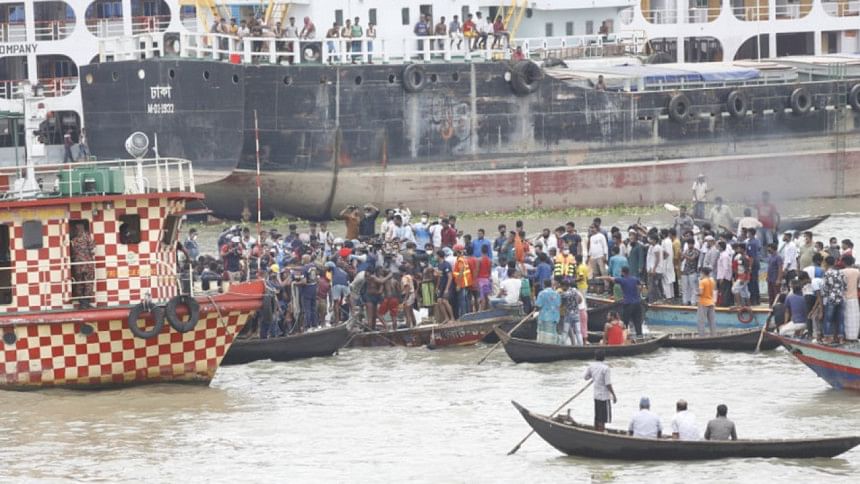 A virtual court today placed Abdus Salam, a supervisor of Moyur-2-launch, on a three-day remand in connection with a case filed over the death of 34 people in the Buriganga launch capsize that took place on June 29.
Judicial Magistrate Mishkat Shukrana passed the order after Sub-Inspector Md Shahidul Alam of South Keranigonj Police Station and also the investigation officer of the case, produced Salam before the court with a five-day remand prayer.
In the remand prayer, the IO said Salam needs to be remanded to know the whereabouts and addresses of the other accused for the accident.
No lawyer was present in the court to defend Salam. His name was not included in the First Information Report (FIR).
At least 34 people drowned as a novice was allegedly at the helm of Moyur-2 launch when the vessel slammed into a smaller launch -- Morning Bird -- causing the smaller vessel to sink in the Buriganga river at the capital's Shyambazar on June 29.
The following day, Shamsul Alam, a sub-inspector of Sadarghat River Police Station, filed the case with Keraniganj Dakshin Police Station against seven people, including the owner of the Moyur-2-launch.
The seven accused in case are: launch owner Mosaddek Hanif Swad (33), his employee Abul Bashar Molla (65), launch master Jakir Hossain (54), engine driver Shipon Hawlader (45), driver Shakil Hasan (28), Sukani Nasir Mridha (40), and Ridoy (24).