Bumper onion yield fails to make growers happy
Growers in Rajbari faces loss as market prices fall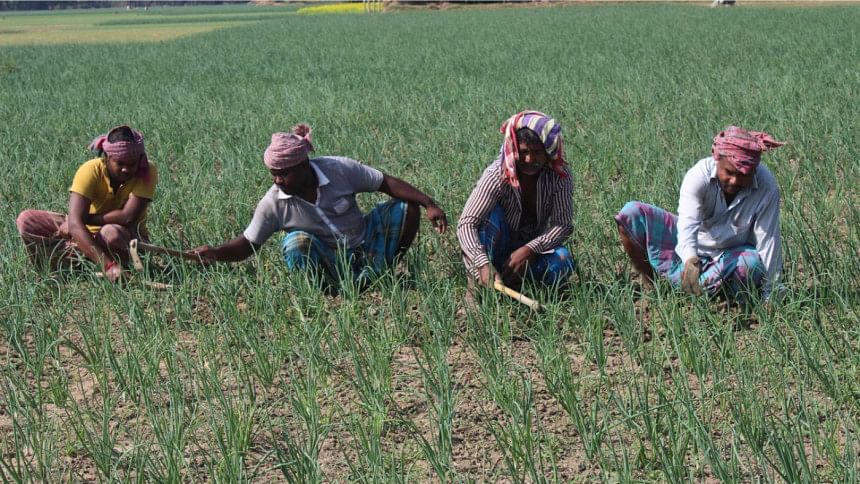 Onion growers in five upazilas of Rajbari saw a bumper yield this year due to favourable weather conditions, but poor market price of the item made them unhappy.
According to Rajbari Department of Agricultural Extension (DAE) a total of 28,250 hectares of land in five upazilas of the district have been brought under onion cultivation this year, compared to 28,225 hectares last year, with the production target of 2.81 lakh tonnes.
"The district saw a bumper production of onion this year due to favourable weather condition," onion farmer Fazlul Haque of Pakasia village in Kalukhali upazila said.
"I cultivated onion on 25 decimals of land this year spending Tk 20 thousand and got yield of 25 to 30 maunds. I sold the item at Tk 750 a maund on average," he said, adding that poor market price of the item has shattered their dreams as they cannot make any profit from their produce.
"We would have been able to make some profit if the market price was Tk 1,000 on average," Fazlul said.
"If the onion price does not increase further I will struggle to get my production cost back," another onion grower Ikram Hossain of Baruli village in Baliakandi upazila said.
Babul Akter of the village said onion growers got a bumper yield due to early recession of floodwater this season.
"I have cultivated onion on 40 decimals of land this year," Sonaton Kumar of Sharisha village in Pangsha upazila said, adding that local farmers are not getting good price of their produce as Indian onion has glutted the local wholesale markets.
Rajbari DAE Deputy Director Fazlul Karim said they have provided all out support to the onion growers, but they have nothing to do regarding its market price.