Bridge modern, road primitive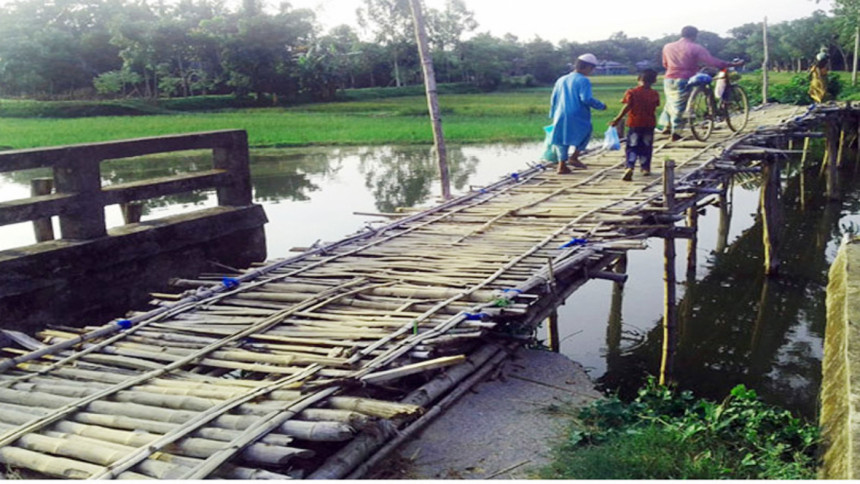 The bridge on Mohim Khal, a canal in Kalmakanda upazila of Netrakona, is used by about 10 thousand inhabitants of 20 villages to communicate with the district and upazila headquarters.
But after one of the approach roads to the bridge, in Nalchhapra village, washed away about four years ago, the authorities did nothing to repair it.
The villagers ultimately came up with a makeshift solution and made a bamboo footbridge to at least cross the concrete bridge on foot. Years have gone by, but the plight of the villagers does not seem to move the authorities concerned.
Abdul Quddus Babul, chairman of Nazirpur Union Parishad, said people of Nazirpur, Lengura and Kharnoi unions need to use the bridge on Nalchhapra-Ranigaon road for their day-to-day affairs and to reach hospitals in the upazila or district towns.
But they have been suffering immensely as the makeshift bamboo footbridge is not strong enough for movement of any vehicle, he added.
The approach road to the bridge, built in 2004 by World Vision Bangladesh, was washed away by flash floods originating beyond the border with India, said locals. 
But without any restoration work conducted on the road, no vehicle can cross the bridge now. As a result, the villagers have to travel more than double the distance to reach Kalmakanda upazila town, which is originally 12 kilometres away, they also said. 
Nalchhapra village resident Mujibur Rahman said transporting agricultural goods have become difficult and expensive without a proper bridge while even crossing the bamboo footbridge on foot gets extremely risky especially during the monsoon. 
The situation over the years is getting worse as a huge crater has developed at the foot of the bridge and near the bamboo pilings of the footbridge, said Jamshed Ali from the same village.
Kapati Ghagra, head teacher of Nalchhapra High School, said about three hundred students of three schools on both sides of the bridge risk their lives to cross the bridge when the schools are open. 
She also said that since flash floods occur in the area every year, a well-designed proper bridge should be constructed at the spot to relive locals of further sufferings.
Contacted, Imran Hossasin, sub-assistant engineer of Local Government Engineering Department in Kalmakanda, said they had once built the approach road to the bridge in 2015-16 fiscal year, but that too was washed away by flash floods in the following year.
"We made a proposal for constructing a 50-foot bridge at the site. It is yet to get approval," he added.