Barguna Mukti Sangram Parishad president on Razakars' list!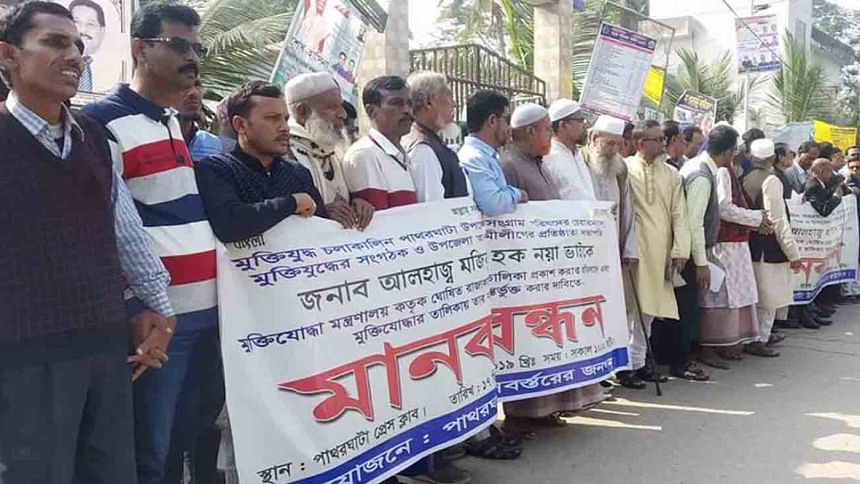 The government list of Razakars has sparked a huge protest in Barguna as the name of the president of the then Barguna Mukti Sangram Parishad is among others on the list.
Freedom fighters and people from different sectors took to the street in Pathorghata upazila today after they found the name of late Majibul Haq alias Naya Bhai, who was the president of the district unit Mukti Sangram Parishad during the Liberation War in 1971, in the Razakars' list.
On Sunday, the government published the list of Razakars who collaborated with the Pakistan army in carrying out mass killings and atrocities against the Bangalees during the war.
Condemning the inclusion of Majibul's name, several hundred people formed a human chain, brought out procession and held rally at Russel Square in the upazila town.
Later, they submitted a memorandum to the authority concerned drawing the attention of Prime Minister Sheikh Hasina in this regard, reports our local correspondent.
In the memorandum, the protesters demanded withdrawal of Majibul Haq's name from the Razakar list and threatened to go for a tough programme if the name is not dropped immediately.
Humayun Kabir, Pathorghata upazila nirhabi officer, received the memorandum and assured the protesters to send it to the Prime Minister's Office soon.
They also held a press conference to press home their demand.
At the press conference, Freedom Fighter Mostafizur Rahman said Majibul Haq (Naya Bhai) was an organiser of the freedom fighters and president of the Barguna Mukti Sangram Parishad during the country's Liberation War.
Apart from this, he was a founder of Pathorghata upazila Awami League unit and performed duty as president of the unit for at least 40 years, he said.
But he was named as a Razakar in the recently published list, Freedom Fighter Mostafizur said adding "It is very sorrowful for us".
While talking to The Daily Star, Nurjahan Begum, wife of the late freedom fighter, said her husband was a close aide of Bangabandhu Sheikh Mujibur Rahman.