Ahead of Eid, Tangail cattle owners fearing loss amid pandemic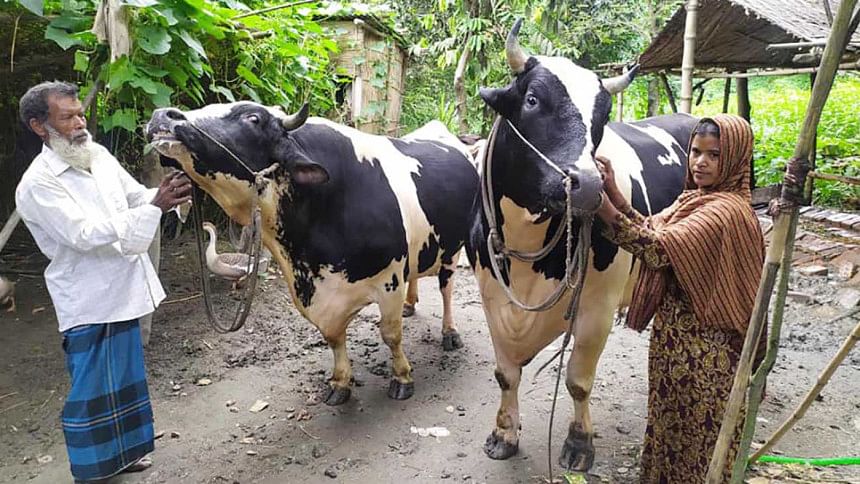 Cattle owners in Tangail are fearing fall in prices of sacrificial animals due to lack of buyers in the local markets ahead of Eid-ul-Azha, amid coronavirus pandemic.
Hamida Akter of Venguli village in Delduar upazila has readied two big bulls to sell at the sacrificial animal market.
"I have been raising the bulls for the last three years and it's not possible for me to keep them because of the high cost of animal feed," she said.
Hamida said, "I expect Tk 20 lakh for the bulls but I don't know whether I can sell and get fair price. People used to come to see the bulls, but no one has made any offer so far."
Isha Munim of Someshpur village in Gopalpur upazila has five big bulls at his farm. He, however, decided to sell his bulls from his farm due to the pandemic situation.  
"I have already uploaded pictures of my bulls on Facebook, drawing attention of the buyers. No one has responded so far and I do not know whether I can sell my bulls and get fair price," Isha said.
Abdur Rashid of Boruha village in Sadar upazila has a black bull for the sacrificial animal market this year.
"My son has already uploaded photos of the bull on Facebook for sale, with my phone number. People are offering prices lower than my expectation," Rashid said.
Like Hamida, Isha and Rashid, many cattle farmers in the district are worried due to lack of buyers during the pandemic.
Abdul Hamid, a wholesaler of Karatia cattle market, said seasonal traders used to buy bulls five to six months before Eid. But this year, many of them did not buy cattle due to the pandemic.
Contacted, Dr Md Abu Sayeed Sarkar, district livestock officer in Tangail, said at least 15,141 commercial cattle farms are in the district.
Around 73,000 cattle are needed to meet the demand for sacrificial animals in the district, but over 90,000 animals are ready for sale. The rest can be supplied to other places from the district, he said.
"If Indian cattle cannot enter, farmers won't suffer losses," he said.
The markets of sacrificial animals are being set up following health directives, he said adding that the department has also started uploading photos of the cattle with phone numbers of the owners on Facebook, for drawing the attention of buyers.   
On the other hand, there are fewer buyers and wholesalers at the cattle markets in the district, including Givindasi in Bhuapur, one of the largest cattle markets in the country.
Although hundreds of wholesalers would come to Govindasi market before Eid-ul-Azha every year for buying cattle, this year few of them are seen. The wholesalers are also offering low prices, Azmal Haque, a leaseholder of the market, said.
"We, however, hope that the number of both buyers and wholesalers will increase in the next few days and the cattle owners will also get fair prices," he added.