1,500 marginalised people receive govt grants in Lalmonirhat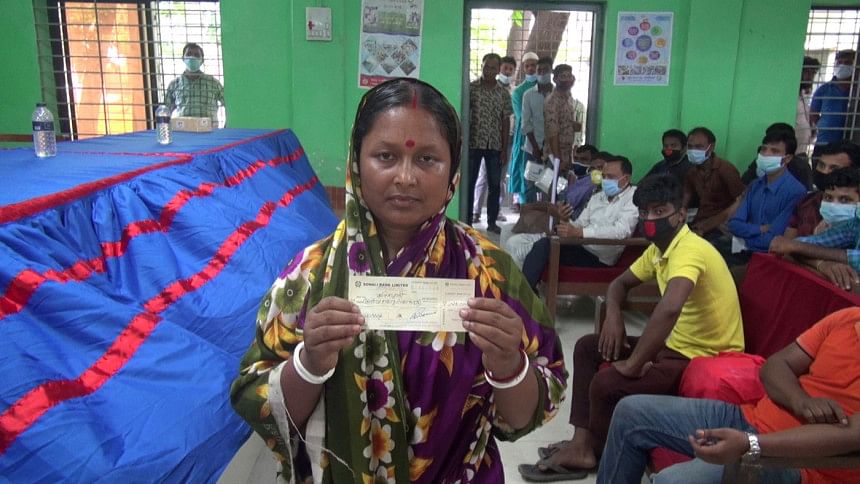 A total of 1500 marginalised people in Lalmonirhat district have recently received financial grants from the government's social welfare department. Each of them in five upazilas and one municipality of the district has received Tk 18,000 financial grant. The local administration has handed over the government grants to the people of the marginalised communities to increase their work efficiency.
These marginalised communities include Rabidas (cobbler), Narosundar (barber), cottage artisans and potters in different areas. These people from different villages in the district struggle to survive. 
 Premchand Rabidas of Bhadai area in ​​Aditmari upazila said he is very happy to receive the government grant amid the pandemic. With the money, he will repair his roadside shop. He will also buy various items used in sewing shoes with the amount.
Dhaneshwar Chandra Rabidas from Kalmati area in ​​Lalmonirhat Sadar upazila said the Tk 18,000 government grant would help them a lot in the crisis time. He would repair his shop and buy some shoe accessories with the money.
"Our income has come down due to coronavirus outbreak. The government grant will really help us financially in the challenging time," he said.
Kohinur Islam, owner of a barber shop in Dalpatti area of ​​Lalmonirhat town, said he could not repair his shop due to lack of money. He has recently received Tk 18,000 financial grant from the government's social welfare department. He will renovate the shop with the money. 
 Fani Chandra Das, who is dependent on bamboo and cane work at Mahishkhocha village in Aditmari upazila, said he lost his capital during the Covid-19 pandemic.
Fani added that there was no money to buy bamboo. He is going to start a new business after getting the government grant in the crisis time.
"I got the opportunity to make a living by buying bamboo and cane with the grant money," he said.
MA Matin, deputy director (DD) of the Lalmonirhat district social welfare department, told The Daily Star that the government has given the financial grants to marginalised people to improve their work skill.
The government has been assisting marginalised people to increase their income, he added.
They will keep vigilance on those marginalised people who have received the government grants, said the DD.