BNP talks political situation with Modi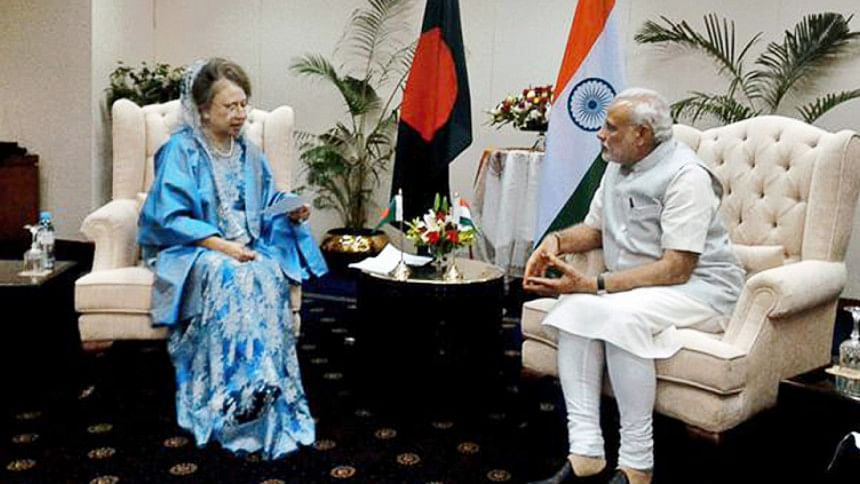 A BNP delegation headed by party chief Khaleda Zia discussed Bangladesh's latest political development with visiting Indian Prime Minister Narendra Modi.
"We have told the Indian premier that there is no democracy and rule of law in the country," BNP standing committee member Abdul Moeen Khan said while briefing journalists on the outcome of the meeting.
He said they have also discussed with Modi that an immediate election should be held in participation of all stakeholders to overcome the situation.
"We have also said to him that development is not possible without democracy," he said after the 45-minute meeting.
Later, the Indian premier had a 10-minute a tete-a-tete with Khaleda Zia but the outcome of the meeting could not be known immediately.
Moeen Khan said in the meeting they have emphasized on boosting people to people communication between Bangladesh and India for establishing a good relation between the two countries.
He alleged that BNP leaders and activists are being arrested and repressed indiscriminately. 
After a series of uncertainty, the visiting Indian PM met BNP Chairperson Khaleda Zia this afternoon.
Khaleda led a six-member delegation and reached Pan Pacific Sonargaon hotel around 3:45pm. She waited out 15 minutes for the meeting.
The meeting started after Modi completed a meeting with leader of the opposition in Parliament Raushan Ershad, Information Minister Hasanul Huq Inu and Civil Aviation Minister Rashed Khan Menon.
BNP standing committee members Tariqul Islam, Nazrul Islam Khan, Abdul Moeen Khan, BNP chairperson's advisors Sabihuddin Ahmed and Reaz Rahman were in the delegation.
Just days ago, it was uncertain as to whether BNP, who had changed their anti-India stand ahead of Modi's visit, would get a chance to meet the Indian prime minister.
The BNP, who were pressing for fresh national elections and carried out agitation earlier this year for their demand, is likely to discuss several bilateral issues that might include "restoration of democracy" in Bangladesh.
'EVERY PROBLEM CAN BE SOLVED THROUGH TALKS'
After a 25-minute meeting, Raushan Ershad and told reporters that Modi believed that all problems between Bangladesh and India can be solved through discussions between the two countries.
"We thanked Modi's government for the resolution of the 68-year-long standing land boundary problem. We talked about sharing of Teesta waters and border killings," she said.
In response, Modi said to have assured Raushan of "solving all problems soon".
However, there was no discussion between the two leaders on the political violence that had gripped the country earlier this year, Raushan said.