Mindless sand lifting poses threat to highway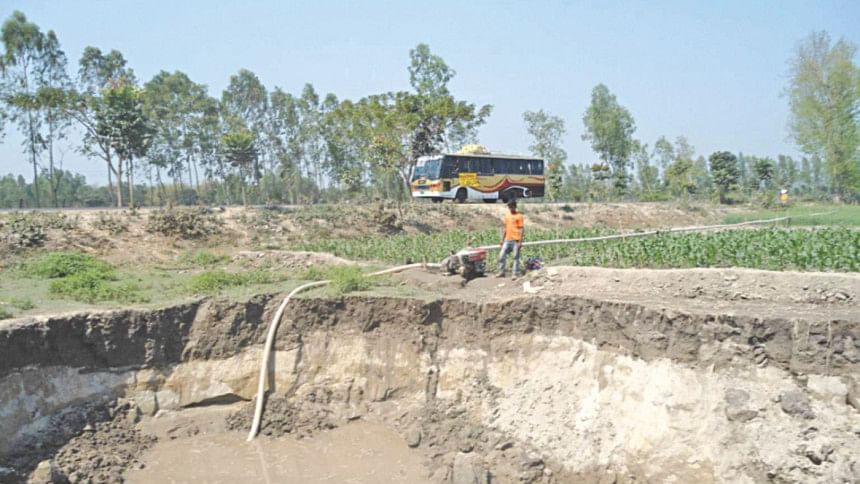 A local leader of Swechchhasebak League is extracting sand from a piece of land about 10 metres from Thakurgaon-Panchagarh highway at Munshirhat village in Thakurgaon Sadar upazila to fill up another nearby land, posing threat to the important road.
The callous act also poses threat of landslide in the adjacent farmlands, said experts and local people.  
During a visit to Munshirhat village on Saturday, this correspondent saw several workers engaged at a point 10 metres from the highway to extract sand through a diesel-run shallow engine-driven locally made dredger.
The sand is being brought through plastic pipes to fill up a low land about 300 yards away.
A deep hole has already been created due to sand extraction that poses risk of collapse to the highway and subsidence in adjacent land.   
Raziur Rahman, president of union unit of Swechchhasebak League, is extracting sand from his land to fill up his another low land 300 yards away, locals said.  
"This dredging machine was brought from Nilphamari district on a contract to pay Tk 3,000 for lifting per square metre of sand. We have been extracting sand for the last five days and seven or eight days more will be needed to fill up the land," said Shamim Islam, 38, a worker engaged in the sand lifting.
Hamidur Rahman, a farmer of the village, said he asked Raziur not to extract sand from the land as it may cause landslide in the adjacent land but to no effect.
Contacted, Raziur Rahman said, "I am extracting sand with a machine from my own land. The road and other adjacent lands will not be affected by the sand extraction."
Shahrier Sharif, sub-divisional engineer of Roads and Highways Department of Thakurgaon, said, "I am not aware of sand extraction beside the road. The road would be at risk if sand is lifted nearby."  
Contacted over cell phone, Upazila Nirbahi Officer Ashraful Islam said, "Nobody took permission from us to lift sand from the roadside land. We will take necessary step if the road faces risk due to sand extraction."