Medical test protesters begin hunger strike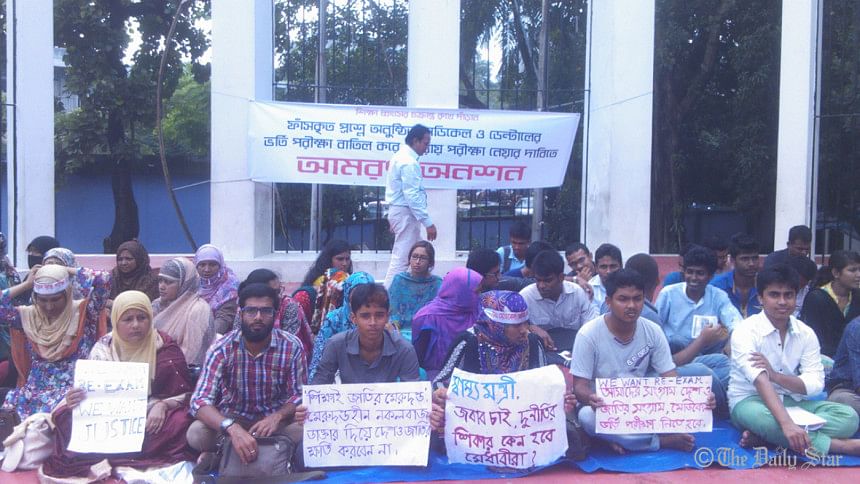 Candidates protesting the leak of the medical college admission test question went on a fast unto death at Central Shaheed Minar in Dhaka this morning.
Around 60 candidates and their guardians started the strike at the Shaheed Minar around 11:00am, our Dhaka University correspondent reports from the spot.
READ MORE: Agitators to go on hunger strike today
They will continue their hunger strike until the health ministry accepts their demand for retaking the admission test for entry into medical colleges.
The candidates have been demanding a fresh admission test as, they claimed, the test questions were leaked a day before the exam on September 18.
Yesterday, they announced the strike, as their earlier programmes like marches, rallies, and exhibition failed to change the government's position.
Meanwhile, people from different walks of life have expressed solidarity with the agitating students.
Lucky Akhter, president of Bangladesh Chhatra Union, said, "The health ministry is trying to approve the question leak by continuing admission process in the medical colleges. Question leak has become a common phenomenon in Bangladesh. Nowadays, question papers ranging from primary certificate examination to job examinations are being leaked widely."
Agitating students and guardians demanded prime minister's intervention to solve the problem.
Principal Ashraf Kamal, spokesperson of the agitating guardians, said, "Prime minister, health minister and the lawmakers went to Singapore and Thailand for health checkup, but where the common people will go for treatment if the quacks serve in the medical sector?"