Medical admission seekers, police scuffle at DMC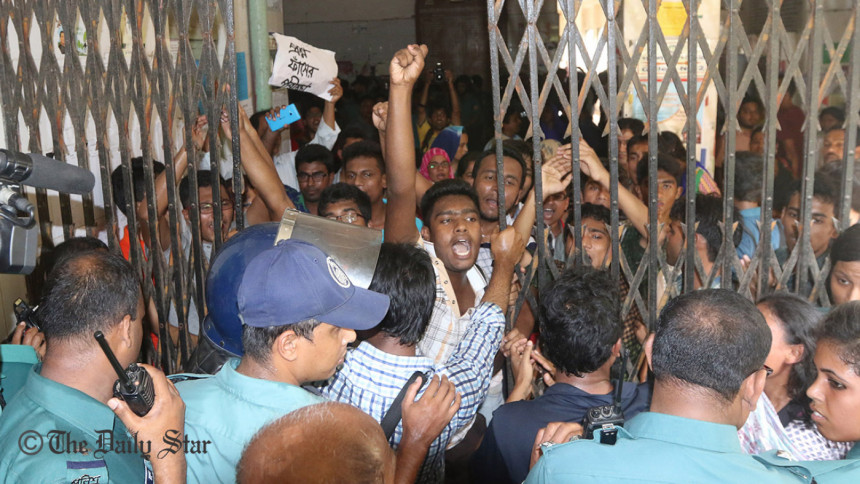 - Agitating students enter Dhaka Medical College
- Stage demo in front of DMC principal's office
- Demo continues for 11th day
- Demo at Shaheed Minar
Students engaged in scuffles with police today at Dhaka Medical College as protests continue for retake of medical and dental admission tests.
The incident took place when protesting students tried to stop the admission process of the state-run medical college around 12:45pm.
At least eight demonstrators were injured, claimed a protestor Sanjida Islam. "Police used force on us – they kicked and used batons".
Md Ibrahim Khan, additional deputy commissioner (Ramna division), told the Daily Star police removed the protestors so that the admission process go on smoothly.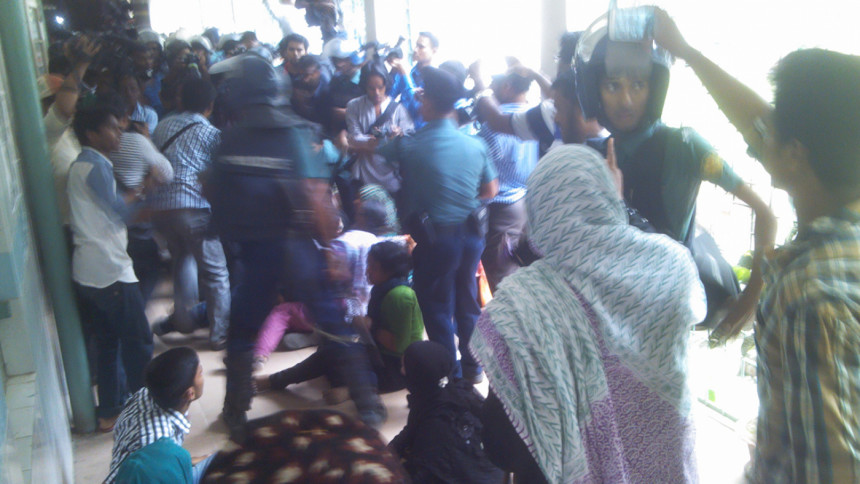 Today was the date to start admission process at DMC and also the 11th day of protests demanding a scrap to the September 18 admission tests alleging question leak.
Protests today began with a sit-in at Central Shaheed Minar around 10:00am. Then, around 200 students and their guardians entered DMC to stop the admission process.
"The admission process at DMC was to start from October 4," alleged an aspirant Wafi Islam. "But they have already begun the admission process from today".
Contacted, Prof Md Ismail Khan, principal of Dhaka Medical College, told The Daily Star they received a circular from the Medical Education and Health Care Human Resource Development department on September 20, with instructions to begin the admission process from September 29 to October 17.
Removed by police, the students later went back to Shaheed Minar and announced a protest rally for tomorrow that will begin from 9:00am.
Meanwhile, a similar incident also took place near Mymensingh Medical College where police drove away protestors when they tried to stop the admission process.
These students have been protesting since September 19 alleging that the exam questions were widely available a day before the tests.
Transparency International Bangladesh (TIB) yesterday expressed solidarity with the students' demand and urged the government to carry out a neutral investigation into the alleged leak, which happened before the exam.
Around 83,000 students took part in the test against 11,049 places in 39 public and 98 private medical and dental colleges, with 48,448 passing the exam.