Marshland farming
Pirojpur's unique 'kandi' farming system produces reliable vegetable harvests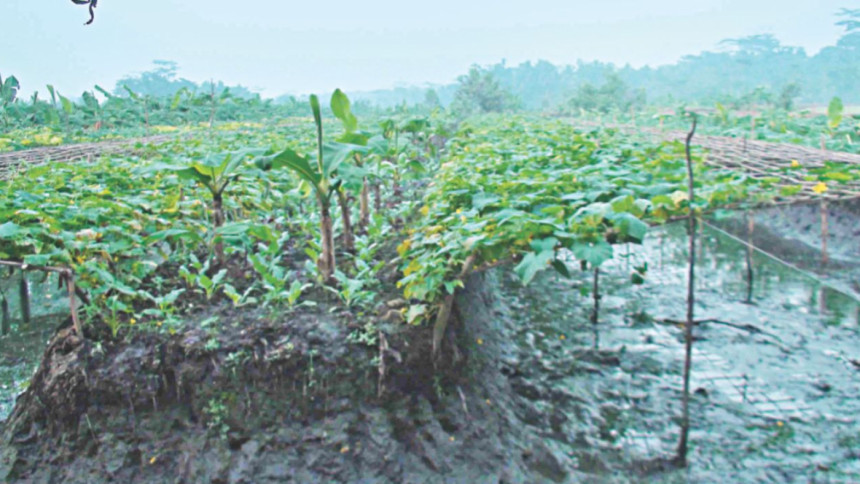 The marshlands of Nazirpur upazila in Pirojpur are under as much as eight feet of water for most of the year. It's not the sort of environment that makes one think of growing vegetables. Yet local farmers do. Employing an Indonesian technique known as sorjan cropping, and locally called the kandi system, Nazirpur's marshlands have provided valuable harvests for generations.
The farming system requires quite a lot of preparation, primarily in winter which is the only season when much of the land is above water. In these months farmers construct long ridges of soil, of up to six feet wide, to serve as raised beds for crops when the waters rise.
It isn't easy to build the ridges for the lack of suitable soil in marshland areas, local farmers say. "We collect water plants like hyacinth to make the kandi ridges higher," explains one farmer, Amir Hossain, 55, from Mugarjhor village.
"The water plants work as a natural fertiliser too," adds his neighbour, Al Amin. They use boats to navigate the area and make their way to and from their kandi.
Once bed preparation is complete, winter crops including brinjal, cucumber, spinach, bitter gourd, cowpea, banana and papaya are planted.
A crop such as red spinach will take not more than twenty days to mature on a kandi plot. "Red spinach offers good profit," says one kandi farmer, Masum. "The only cost is the seed."
To protect the crops, vines are planted on frames of sticks along the sides of the kandi to prevent erosion should water levels rise.
It's not known when the kandi system was first used in the area, but it's a practice that dates back centuries. "It's certainly an old farming tradition in Nazirpur," says the deputy director of the department of agriculture extension in Pirojpur district, Md Abul Hossain Talukder.
"From childhood I have been involved in this type of agriculture," says Ayub Ali, a seventy-year-old farmer, also from Mugarjhor. "I learnt it from my father and grandfather."
This year up to 2,200 hectares of land has been engaged in kandi-method vegetable cultivation.