Cox's Bazar to Teknaf
Marine drive road opens soon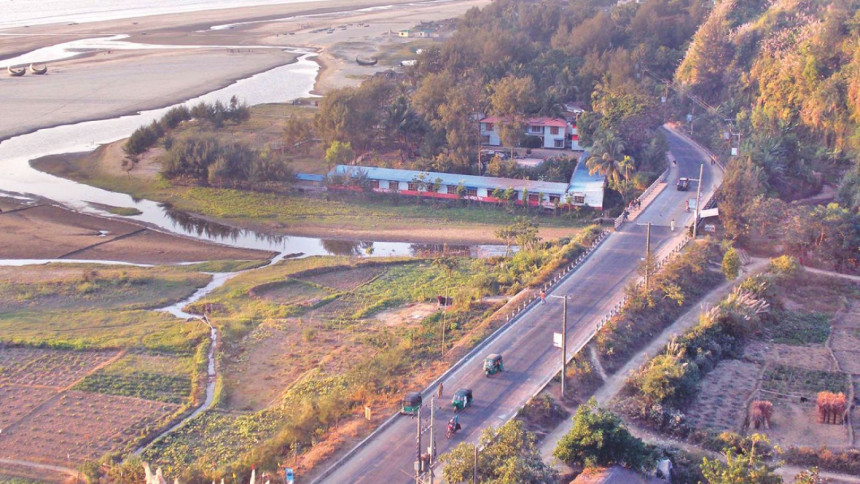 Prime Minister Sheikh Hasina is likely to inaugurate the 80-kilometre marine drive road from Cox's Bazar to Teknaf as the third phase of the project is at the final stage, said sources of the local administration. 
The work of the giant project aimed at developing fast communication in the famous tourist zone started in 1999.
The infrastructure at a cost of Tk 456 crore was implemented in three phases -- 24 km between Kalatoli to Inani was built in the first phase, and then 24 km from Shilkhali to Teknaf upazila headquarters and lastly 32 km road from Shilkhali to Sabrang in Teknaf, said Rana Priyo Barua, executive engineer of Roads and Highways Department (RHD) in Cox's Bazar.
The marine drive has already contributed to an attractive tourist-friendly ambiance along with economic growth in Ukhia and Teknaf where hotels, cottages and resorts are being constructed.
"The marine drive adds to the modernity and recreational facilities in Cox's Bazar. It brings bright prospect of massive economic growth in the area," said Lt Col Forkan Ahmed (retd), chairman of Cox's Bazar Development Authority. 
"This road is a milestone in Cox's Bazar. Every day, hundreds of tourists are travelling on the road amid eye catching natural beauty," said M Kibria Khan, president of Tour Operators Association in Cox's Bazar.
Abdur Rahman Bodi, lawmaker from Cox's Bazar-4 (Ukhia-Teknaf), emphasised branding of the marine drive road.
Bangladesh Army's 16 Engineer Construction Battalion is conducting the construction work of the marine drive under a project of the Ministry of Road Transport and Bridges.