Murder Of College Student
Locals set suspected killers' house afire in Barisal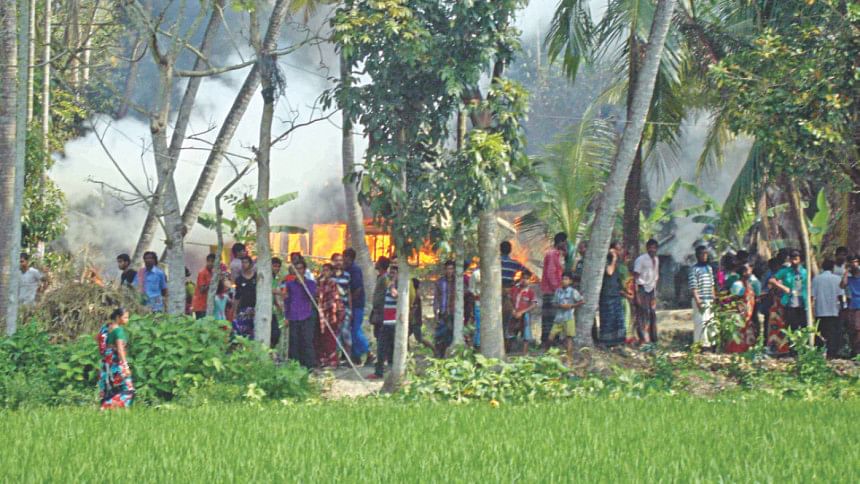 A group of local people yesterday attacked and torched the house of the suspected killers of a college boy who was allegedly poisoned to death at Jambari village under Ujirpur upazila in the morning.
The deceased is Sukhdev Mistri, 22, son of betel leaf trader Sukhen Mistri of the village. He was a student of Government Titumir College in Dhaka.
Sukhdev came to his village home on Monday, said Nurul Islam, officer-in-charge of Ujirpur Police Station.
The following morning, locals found his body on the bank of the pond of one Dasharath Samaddar near a bamboo cluster at the village and informed the police.
The law enforcers then reached the spot, recovered the body and sent it to Barisal Sher-e-Bangla Medical College Hospital morgue for autopsy, said the OC.
As the death news spread, a group of agitating locals rushed to the spot at around 9:30am, swooped on the house of Dasharath and set it on fire.
Being informed, police rushed to the spot and fired six rounds of blank shots to bring the situation under control. They with the help of locals extinguished the blaze.
Additional police personnel have been deployed in the area to avert any further trouble, said Assistant Superintendent of Police Sudipta Sarkar.
Sukhdev and Nipa Samaddar, 18, youngest daughter of Dasharath Samaddar, had been in love for long, said Krishna, a resident of the village.
The victim was poisoned to death over the love affair, he alleged.
The law enforcers detained Dasharath and his daughters Nipa, Kanok and Anima for interrogation, said police.
Preparation to file a case was going on as of filing of this report at 6:00pm yesterday.