Libya boat sink: 25 survivors return home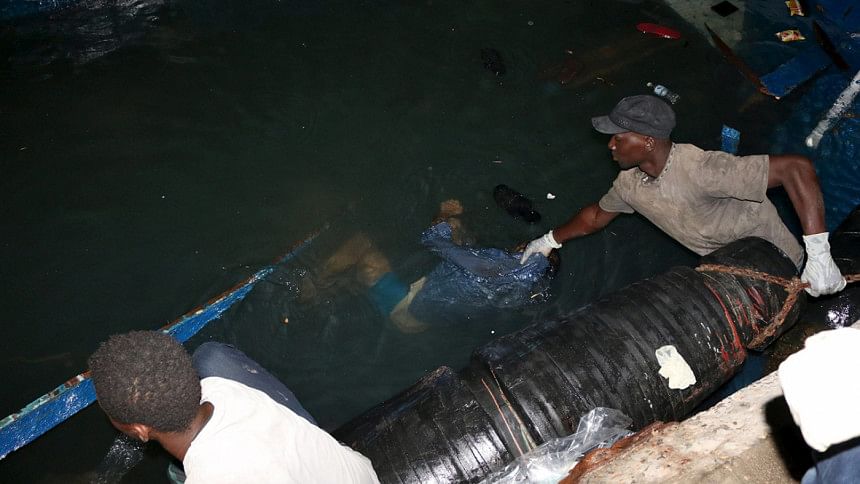 Twenty-five Bangladeshis, who survived after two boats capsized off Libyan coast on August 24, returned home this morning.
The rescued migrants reached Dhaka from Libya by a flight of Turkish Airline around 5:00am, Ismail Hossain, a returnee from Libya, told The Daily Star.
They started from home on September 17 boarding a domestic flight of the Turkish Airline after stopping at Istanbul Ataturk Airport, Ismail, hailing from Amin Bazar, Dhaka, said.
Ismail who was working in Libya for a year and a half, said that many Bangladeshis were allegedly trying to go to European countries, especially Italy and Germany along with the other migrants with the help of German and Bangladeshi brokers.
About the August 24 capsize, Ismail said, around 100 Bangladeshis were on the boat which was carrying nearly 600 people.
Around 250 people died among whom mostly were women and children, he said.
The incident took place an hour after their boat journey in the Mediterranean Sea, he added.
Most of them paid Tk 3 lakh to the brokers, Ismail said.
About the other two Bangladeshis who were supposed to return, Ismail said that they did not want to come back.
ASM Ashraful Islam, counsellor (labour) at Bangladesh embassy in Libya, told The Daily Star over phone on Thursday that in total of 27 Bangladeshis were returning home.
All the 27 migrants are men, the counsellor said, adding that most of them are from Shariatpur and Madaripur.
These Bangladeshis are part of some 500 migrants from Asia, Africa and Middle East who boarded two vessels that sank after leaving the Libyan port city of Zuwara for Italy, Ashraful said.  
A total of 24 Bangladeshis were among those who perished in the Mediterranean Sea when the rickety boats sank off the coast of Libya, said the Bangladesh embassy.