Japan congratulates Hasina on being re-elected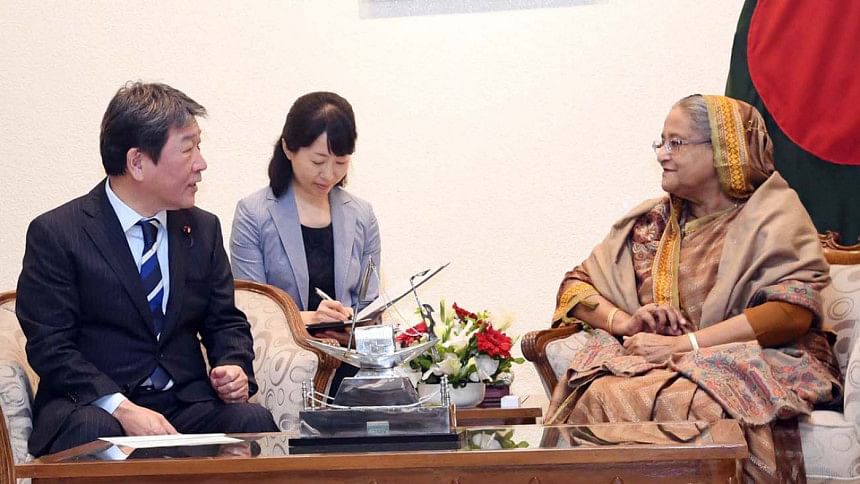 Japan has congratulated Prime Minister Sheikh Hasina on the inauguration of her fourth term as prime minister and assured its support in Bangladesh's development efforts.
Japan's Minister in charge of Economic Revitalisation, Toshimitsu Motegi stated this when he made a courtesy call on the prime minister yesterday.
The minister also said Japan is appreciative of Bangladesh's national election since it was conducted with participation of all major opposition parties. He also expressed regret over various matters of concern that arose during the election process, such as occurrence of many casualties, said a press release from the Embassy of Japan.
Expressing interest in further developing bilateral relationship of the two countries, Minister Motegi also conveyed that Japan, as a traditional friend of Bangladesh since its independence, hopes that Bangladesh will continue on its path of democratic development, and that Japan intends to support Bangladesh's future efforts in development and prosperity.
Toshimitsu Motegi arrived in Dhaka on Sunday for a two-day visit to observe the scenario of emerging enterprises and digital technology in Bangladesh.
During his visit, Motegi visited an IT service company that conducts offshore software development for Japanese enterprises, and held a meeting with a Japanese entrepreneur who is providing educational IT services.
He also expressed Japan's interest in contributing to digitisation and tackling social challenges in Bangladesh.