Jamaat-Shibir men clash with cops in Rajshahi
5 activists held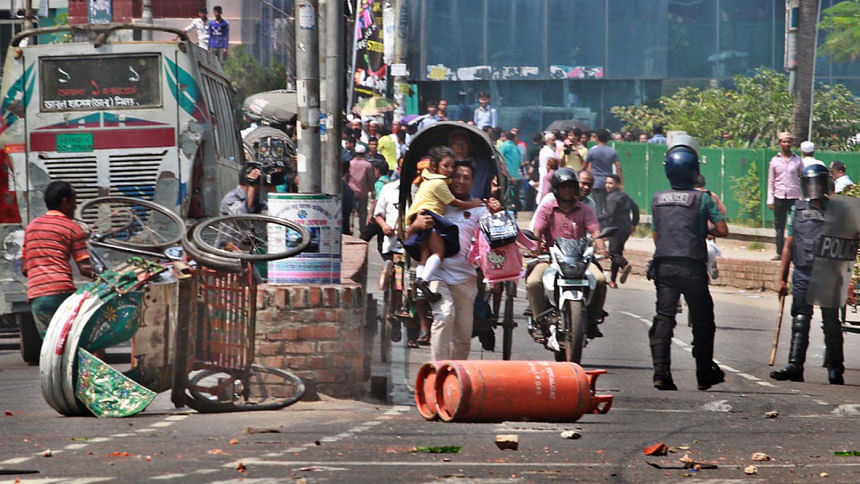 Law enforcers opened fire on activists of Jamaat-e-Islami and its student wing Islami Chhatra Shibir during a clash in Rajshahi this afternoon.
The Jamaat-Shibir men locked into the clash with police near Hetemkha graveyard in the city after holding a gayebana namaz-e-janaza for executed war criminal Motiur Rahman Nizami, our Rajshahi correspondent reports quoting Iftekhair Alam, assistant commissioner of Rajshahi Metropolitan Police.
The law enforcers opened fire when the activists attacked them hurling brick chunks, the assistant commissioner said.
Police picked up five activists from the scene.
Meanwhile, in Chittagong, police opened fire to bring the situation in control when Jamaat-Shibir men hurled brick chunks to Bangladesh Chhatra League activists at Chittagong College ground around 1:45pm, said Kamrul Amin, deputy commissioner (South zone) of Chittagong Metropolitan Police.
BCL men took position there to prevent the Jamaat-Shibir men from holding gayebana namaj-e-janaza for executed war criminal Motiur Rahman Nizami, reports our Chittagong correspondent.
The execution of war criminal Nizami was carried out early today at Dhaka Central Jail.