Indian media term Modi visit 'productive', 'successful'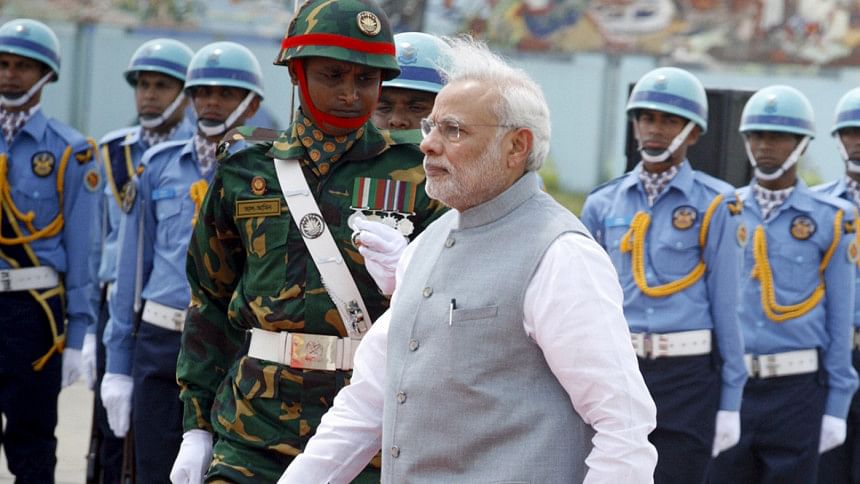 The Indian media view Prime Minister Narendra Modi's visit to Bangladesh as "productive" and "successful".
Editorials in the Indian newspapers see the trip as "more purposeful and problem-solving neighbourhood policy" and a "new dynamic in motion."
However, the media also made it clear that real challenge lies in implementing the agreements and decisions taken by both the countries during Modi's 34-hour visit to Bangladesh, reports our New Delhi correspondent.
In an editorial "Taking the Lead",  the Indian Express described the Land Boundary Agreement (LBA) as an "enormous achievement" that has been sealed in Dhaka, adding "of course, that India has had a determined partner in the Sheikh Hasina regime has made it possible.
"The Bangladesh PM's unreserved cooperation on terrorism and a readiness to think out of the box have been key to constructing a genuine partnership between Delhi and Dhaka. But the larger significance of Modi's visit is in the demonstration of the potential for transforming the region through a more purposeful and problem-solving neighbourhood policy," the daily commented.
It said the Dhaka-Guwahati bus link, extending Kolkata-Dhaka bus service to Agartala and the decision to set up a new Indian and Bangladeshi consulates in Khulna, Sylhet and Guwahati respectively , "addresses the unfinished agenda of the territorial partition of Bengal in 1947" and "will help the process of economic and cultural reintegration."
The editorial noted that Bangladesh deciding to set up exclusive economic zones for Indian investments is the first offered by a neighbouring country of India, and said that by allowing access to Chittagong and Mongla ports to India in return for allowing Bangladeshi goods road access to Nepal and Bhutan have "implications extending far beyond greater convenience for Indian cargo vessels, tying up economic cooperation with a growing bilateral strategic trust."
"The challenge, however, will lie in the hard work needed to implement these initiatives. Slow pace of implementation has undermined the gains of many a hard-won political battle in the past. A couple of major issues are still to be settled. The Teesta waters treaty negotiated in 2011 remains in a limbo," said the Indian Express.
It said Modi and Hasina "will also need to find a sensible solution to labour mobility across the border" and suggested that "Instead of framing the issue in terms of illegal immigration, the two sides can benefit by an agreed system of citizenship identification and work permit in the border regions."
The Times of India in its editorial , said "Opening Doors' ratification of the LBA undoes a damaging legacy of Partition" and "India and Bangladesh have bucked the South Asian disease of constantly bickering and quarrelling, which has rendered the region one of the least economically integrated in the world."
It said "while India has been embroiled in a difficult relationship on its western border with Pakistan, there are multiple opportunities in the East waiting to be utilised. If Bangladesh can become India's land bridge to Southeast Asia, moribund economies of India's eastern and northeastern states can be revitalised."
"At this point, Modi has been successful in persuading the Dhaka establishment that Bangladesh stands to gain from India's rise. As the benefits of India-Bangladesh cooperation start trickling in, perhaps the establishment in Islamabad too can be persuaded to drop its radical suspicion of India and end the game of 'tu tu main main' that bedevils the subcontinent."
Pointing to ratification of LBA, India getting access to Mongla and Chittagong ports, special economic zones for Indian investors and sharing of intelligence about insurgent activity, Hindustan Times daily in its editorial said "as far as Mr Modi's neighbourhood outreach goes, this visit has been one of the most productive so far."
An editorial "Modi's day in Dhaka" in The Hindu newspaper said Modi made West Bengal chief minister Mamata Banerjee "understand the geostrategic significance" of Bangladesh and "now in the next phase, India needs to implement the agreements, before another season of elections sets in."
The Mint in an opinion piece said with Modi's visit to Dhaka, "a chapter of bitterness in bilateral relations between India and Bangladesh has come to an end."
It said while concluding LBA was easy, sharing of the water of common rivers "will be much harder."
However, it points out that "politically almost all tough problems have been resolved when the Awami League is in power in Bangladesh" and mentioned LBA and 1996 Ganges water-sharing accord adding "when the Bangladesh Nationalist Party is in power, bilateral relations cool down."