N'ganj teacher reinstated, school body scrapped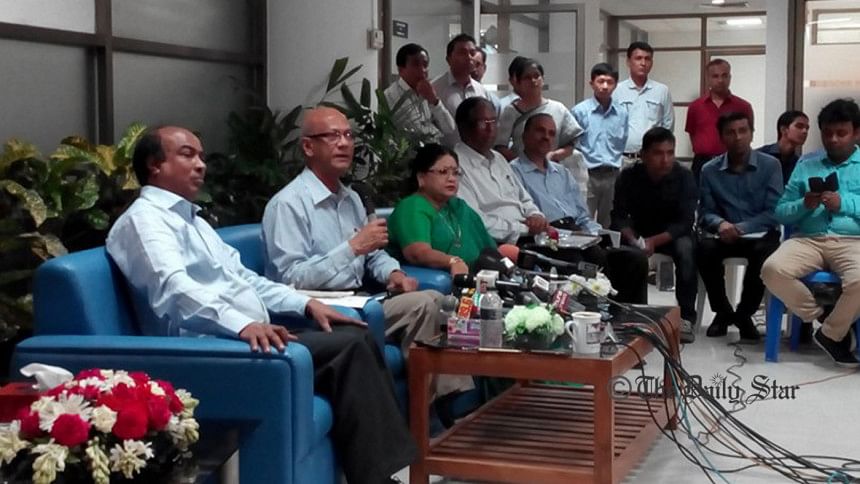 Education Minister Nurul Islam Nahid today reinstated the humiliated headmaster of Narayanganj and scrapped his school's governing body over public humiliation of the teacher.
- Allegation of demeaning religion found untrue
- Injustice done with teacher, minister says
- No comments on lawmaker Salim Osman
Allegation against the headmaster that he demeaned religion was untrue, the minister, who received a primary probe report over the incident last night, said in a press briefing.
Headmaster Shyamal Kanti Bhakta of Piyar Sattar Latif High School in Narayangaj's Bandar, was beaten up and made to squat holding his earlobes in presence of local Jatiya Party lawmaker AKM Selim Osman last Friday over allegations that he demeaned religion – a claim the teacher denied.
The teacher claimed the locals were provoked by false allegations and that some teachers held a grudge against him for not meeting their unfair demands. He was later suspended from the school.
A video clip of the incident went viral on social media, triggering public outrage and a firestorm of protests on social networking sites with people mimicking the squatting holding their earlobes.
"Injustice has been done with the teacher," Nahid told reporters in the press briefing today. "That's why the teacher has been recommended and the school's governing body scrapped."
"Such an unprecedented incident can't take place in any civilised nation," the minister said, condemning the incident all the same.
However, the minister did not say anything directly on Jatiya Party lawmaker Salim Osman.
"We have received the probe report yesterday. Actions will be taken accordingly," Nahid said in response to direct questions from journalists regarding this lawmaker, who in the video, was seen to be handing out the humiliation to the headmaster.
PROTESTS CONTINUE
Dhaka University teachers stood in a human chain at campus today.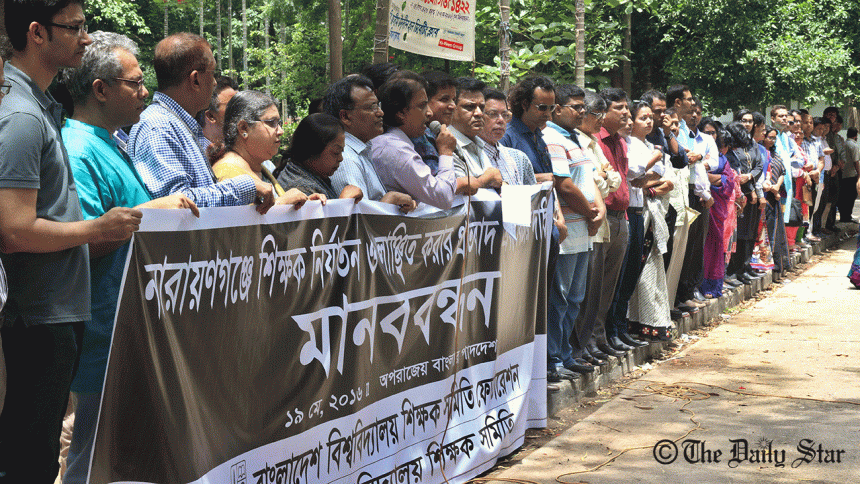 Wielding the banner of Federation of Bangladesh University Teachers' Association (FBUTA), the teachers stood for an hour in chain near Oporajeyo Bangla from 11:00am.
"We stand here with immense sadness, anger and shame. A lawmaker enacts laws and shows direction to the nation," said Pro-Vice Chancellor of Dhaka University Dr Nasrin Ahmed.
A total of 37 public universities across the country formed human chains as per the decision of FBUTA.