Historic theatre at risk of eviction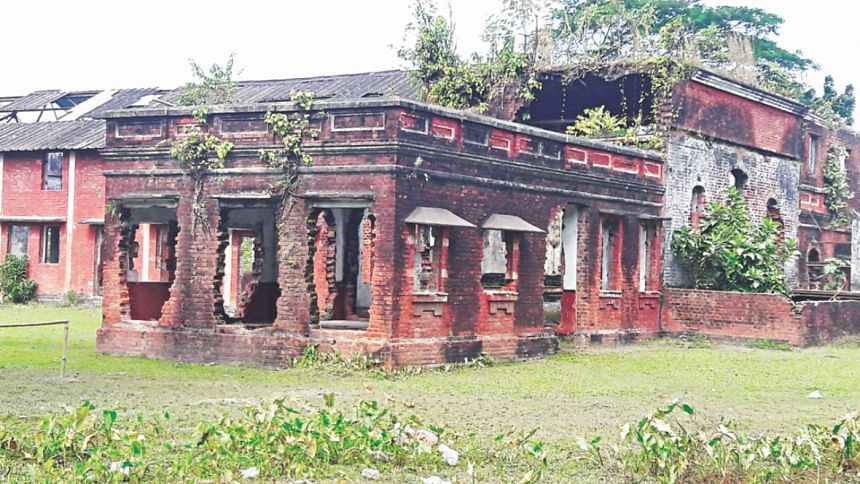 Regular patrons of cultural events, along with performers in Lalmonirhat town, are in anguish over the likely loss of the historic theatre located on the Railway MT Hossain Institute grounds, in the town's Bapupara area. They accuse the Lalmonirhat Chamber of Commerce and Industry (LCCI) of land grabbing, with plans to relocate the LCCI Model School in a new building to be constructed on the theatre site. The new school building's foundation stone has already been laid.
The theatre, for most of its history maintained by the West Zone Railway, was constructed on three acres of railway land in 1905. Initially called the Pears Institute, the theatre's current name was adopted in 1934.  Due to its revolving stage and circle gallery seating, the theatre stood out as an important cultural venue in South Asia. It has hosted innumerable events over the years, celebrating the works of the Subcontinent's poets and authors as well as hosting plays and musical events. Until 1983 the theatre regularly held cultural discussions too, attracting participants from neighbouring countries.
"We still dream that the theatre can be renovated to save this unique venue for our performing arts heritage," says cultural activist Sayeed Taherul Islam Sufi. "Last year the director general of Bangladesh Shilpakala Academy visited the premises and expressed a similar sentiment."
Locals state that wood, iron rods and bricks have already been pilfered from the theatre, and now, they allege, it looks as if the LCCI is making a serious effort to grab the land.
"The LCCI Model School had occupied congested premises on Thana Road since 2010," says Quamrul Hasan Bakul, the chamber's president. "We want to relocate the school on currently abandoned railway land, in the greater interest of education."
He says that they have no valid document supporting any claim to the theatre site, but have taken verbal permission from railway estate officials; and that they are as yet trying to obtain documentary approval from railway authorities. "If formal permission is not forthcoming, we will not use the land," he adds.
The West Zone Railway's divisional estate officer in Lalmonirhat, Rezowanul Haque, refuted the claim that any verbal permission concerning land use has been given to the LCCI.  "In fact, we cautioned the LCCI not to attempt to relocate to the Institute's land," he says, adding that senior railway officials have inspected the theatre venue recently.
"The railway hasn't had the budget to maintain the historic site since 1983," Rezowanul admits. "But senior railway officials are considering taking steps to renovate it. There is no scope for a school or any other institution to be established on that land."
Nonetheless the town's literary and performing arts supporters want the matter clearly resolved in the theatre's favour. They urge the concerned railway and Shilpakala Academy authorities to ensure the historic theatre is preserved.