11 Bangladeshis among Mina victims: Haab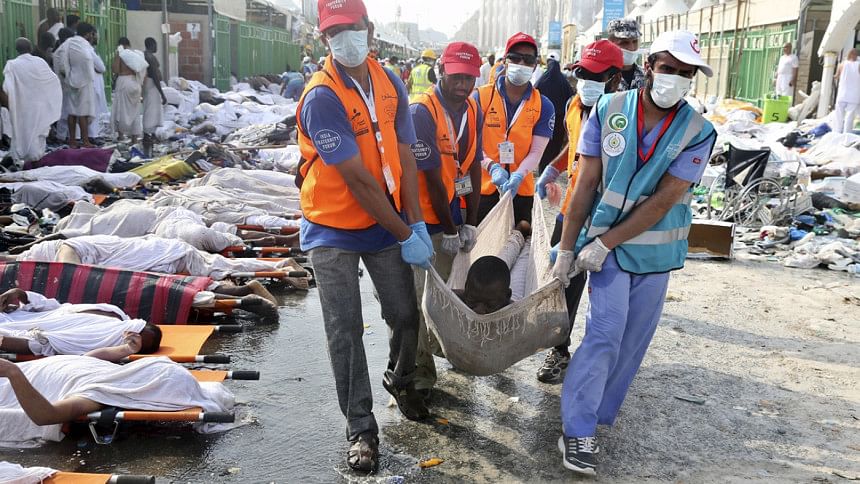 At least 11 Bangladeshis were killed and 80 others injured in the stampede at Mecca during Hajj on September 24, Hajj Agencies Association of Bangladesh (Haab) said today.
Besides, 98 other Bangladeshis are missing since the stampede that occurred in Mina, a few kilometres outside the holy city.
"Of the 80 injured, 30 have returned to their camps after taking primary treatment, but conditions of others are critical," Ibrahim Bahar, president of Haab, told The Daily Star.
Details of the 11 deceased Bangladeshis could not be known yet as the Saudi authorities were not allowing entry to the hospitals concerned, he said.
Ibrahim also said Saudi authorities released 650 photos of the deceased which include only two photos of Bangladeshi pilgrims. 
Meanwhile, the Bangladesh foreign ministry has confirmed the death of three Bangladeshi hajj pilgrims in Thursday's Mina stampede.
The number of missing Bangladeshi pilgrims has yet to be ascertained, the Ministry of Foreign Affairs (MoFA) said in a press release issued on the fourth day of the catastrophe at the largest Muslim's congregation.
The identification began today after the Saudi authorities released the photos of 650 of the 769 pilgrims they said had died in the incident.
Bangladesh officials identified a victim as Md Shahidul Islam from Khulna.
ALSO READ: Hajj death toll rises to 769
It confirmed death of two others male Bangladeshi nationals but failed to ascertain their identity.
"In addition, family members of a female pilgrim, Firoza Khanam, confirmed her death in the stampede (though her photo was not yet among those released photos)," the press release reads.
The ministry also said Saudi authorities are expected to publish photographs of rest of the victims by tomorrow.