Govt hikes bus, auto-rickshaw fares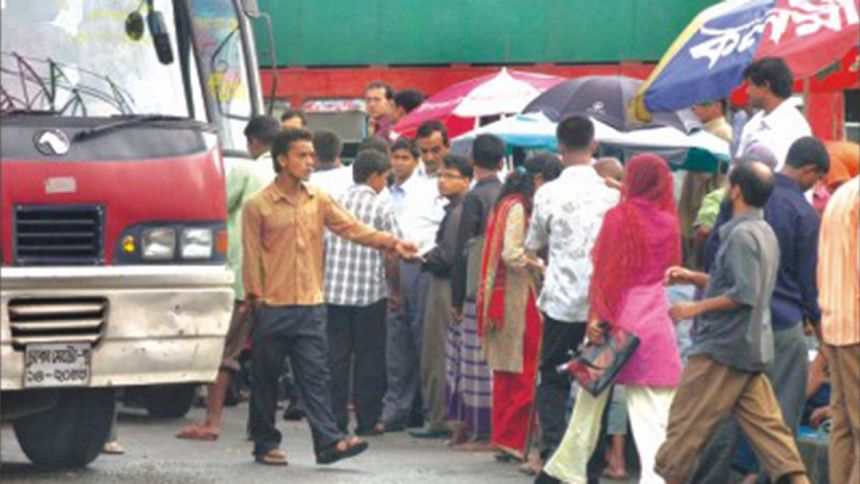 -- Govt hikes bus, CNG-run auto-rickshaw fares
-- Bus fare raised by 10 paisa to Tk 1.70 per kilometer
-- Minimum bus fare remains unchanged at Tk 7
-- Fare of first 2km auto-rickshaw ride hiked by Tk 15
-- CNG drivers to pay Tk 900 to owner on daily basis
The government has hiked bus fares by 10 paisa per kilometre in Dhaka and Chittagong which will be effective from October 1.
Commuters of CNG-run auto-rickshaw will have to pay more as well from the first of November.
Road Transport and Bridges Minister Obaidul Quader announced the revised fare chart today at the ministry's conference room, weeks after the government increased prices of natural gas and electricity.
For buses, 10 paisa has been raised per kilometre. The new rate is Tk 1.70. The minimum fare remains unchanged at Tk 7. For minibuses, the new rate is Tk 1.60 instead of the previous Tk 1.50 per kilometre.
For CNG auto-rickshaws, commuters will have to pay Tk 40 for the first two kilometers and Tk 12 for each next kilometre. Waiting charge has been made Tk 2 per minute.
Previously, the rate was Tk 25 for the first two kilometers and Tk 7.64 for the each next. Waiting charge was Tk 1.40 per minute.
The drivers will have to pay Tk 900 on daily basis to the owners as deposit money where as the rate is Tk 600.
The fare has been hiked following the government on September 1 increased CNG price from Tk 30 to 35 in per cubic metre.