Govt decides to ban fishing in sea for 65 days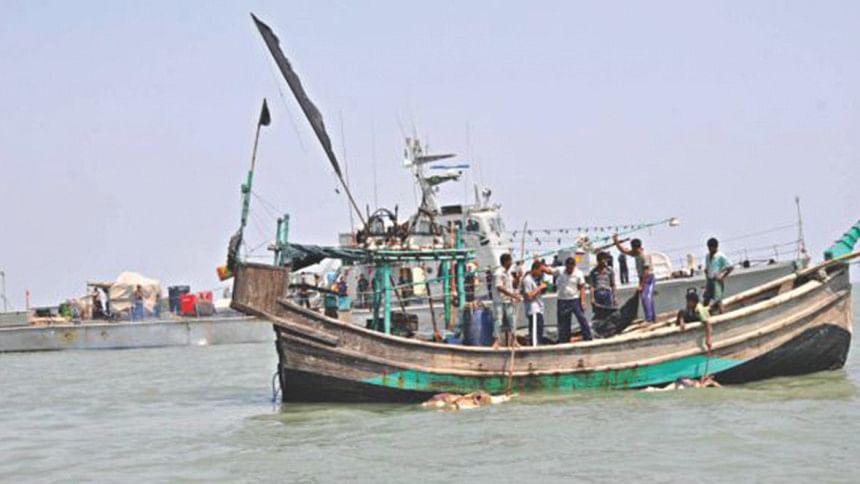 The government has decided to ban fishing in the exclusive economic zone (EEZ) of the Bay of Bengal from May 20 to July 23, aiming to give a boost to sea fish output.
"For the first time, sea fish and shrimp harvesting through commercial trawlers will be propitiated in the country's EEZ of the Bay of Bengal for 65 days from upcoming May 20 to July 23 considering the breeding of sea fishes and their conservation," Fisheries and Livestock Minister M Sayedul Hoque told a press briefing at his ministry today.
He said fishing in all coastal countries across the world remain prohibited for two to three months during breeding season.
"After a long discussion with various stakeholders like the Marine Fisheries Association, the Marine Fisheries Academy, researchers, university professors and senior officials of the Department of Fisheries, we've decided to ban sea fishing," the minister said.
He said the fish production will mark an extensive rise if 10-20 percent of sea fish could be conserved through the restriction period. "We'll issue a circulation in this regard soon."
Describing the country's strategic location, Sayedul Hoque said Bangladesh is a big delta situated on the coastline of the Bay of Bengal and it has a huge fisheries resource in the sea along with other natural resources.
It is necessary to ensure safe environment for mother fishes during their breeding period, he said, the catching of all fishes through commercial trawlers should be propitiated for a specific period (breeding period) every year.
Replying to a question, Sayedul Hoque said the restriction of sea fishing will not create any fish crisis in the country as the ban will come at a time when fishermen can hardly go for fishing due to stormy weather.