Gazipur RMG unit fire melts steel structure
Blaze brought under control after 19hrs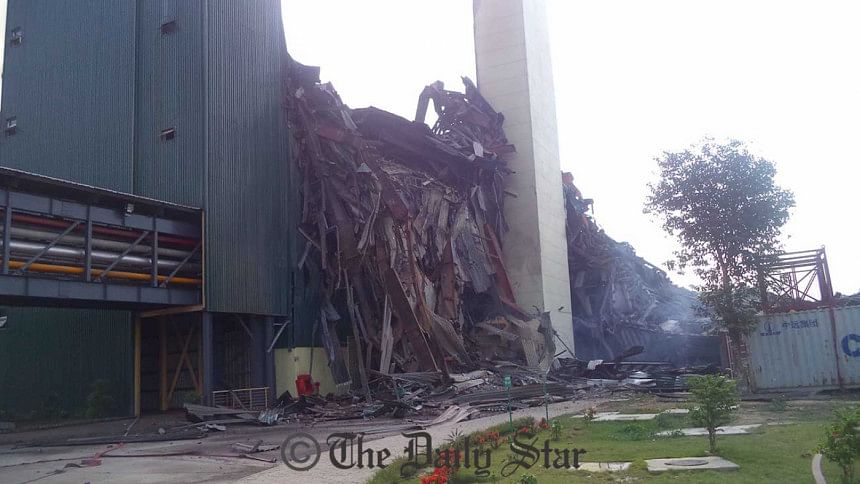 The devastating fire which swept through a ready-made garment factory at Sreepur upazila in Gazipur was brought under control this morning after 19 hours.   
No causality was reported, but intense heat melted part of the steel structure of Dignity Textiles Mills Ltd's seven-storey building, said Akteruzzaman Liton, deputy assistant director of Gazipur's fire office in the morning.
The fire originated on the third floor of the warehouse constructed based on a steel structure around 2:15pm yesterday when all workers went outside for lunch break, said Administrative Manager of the factory Nazmunnahar Kemi.
On information, 16 firefighting units rushed to the spot immediately. They managed to bring the fire under control around 9:00am, Fire Service and Civil Defence officials said.
The fire completely burnt the floor and also spread up to the top floor, the officials said.
A huge amount of thread, cotton, cloth and equipment was gutted in the fire, which is suspected to have originated from an electric short circuit, the deputy assistant director said.
There were flammable products on all the floors, said Director General of Bangladesh Fire Service and Civil Defence Brig Gen Ali Ahmed Khan.
The fire fighters faced difficulties while dousing the flame as they could not go near the building due to excessive heat and its strong boundary wall.
Around 3,000 people work at knitting, dyeing, cutting, finishing and other sections of the composite factory owned by Deel Hue, a national of Mauritius.