125 Bangladeshis brought back from Myanmar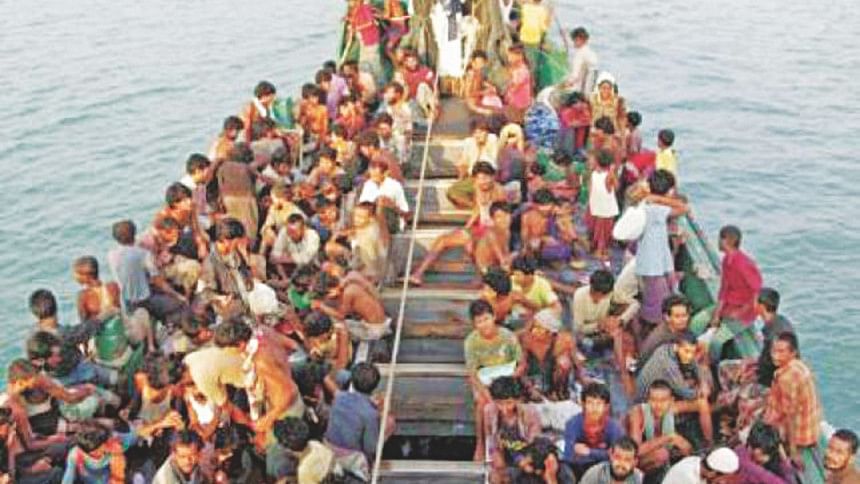 A total of 125 Bangladeshi human trafficking victims, who were rescued by Myanmar authorities, were brought back to Bangladesh today.
They returned home following a flag meeting between Border Guard Bangladesh (BGB) and Myanmar immigration department this afternoon, our Cox's Bazar correspondent reports quoting Col NM Anisur Rahman, sector commander of the BGB battalion of the district.
The human trafficking victims were taken to a temporary camp at Cox's Bazar Cultural Centre in order to verify their nationalities for the second time, Tofael Ahmed, additional superintendent of police of Cox's Bazar, told our local correspondent.
A 20-member BGB delegation led by Lt Col Md Robiul Islam, director of 17 BGB Battalion of Cox's Bazar went to Myanmar to join the meeting around 10:30am.
The BGB delegation and Myanmar Immigration and National Registration Department held the meeting at Myanmar's Dekibuniya BGP camp near Bandarban's Ghumdoom border in Bangladesh.
The 125 rescued people, including over 20 children, hailed from 14 districts in Bangladesh.
The Myanmar Navy on May 21 and 29 rescued 208 and 727 fortune seekers from their territorial waters and claimed that all of them were from Bangladesh.
According to Asif Munir of the International Organization for Migration (IOM), 501 Bangladeshi trafficking victims have so far been repatriated from Myanmar in four phases since last June 8 while some 325 Bangladeshis are on the waiting list to return home.