Farmers see good profit from early potato farming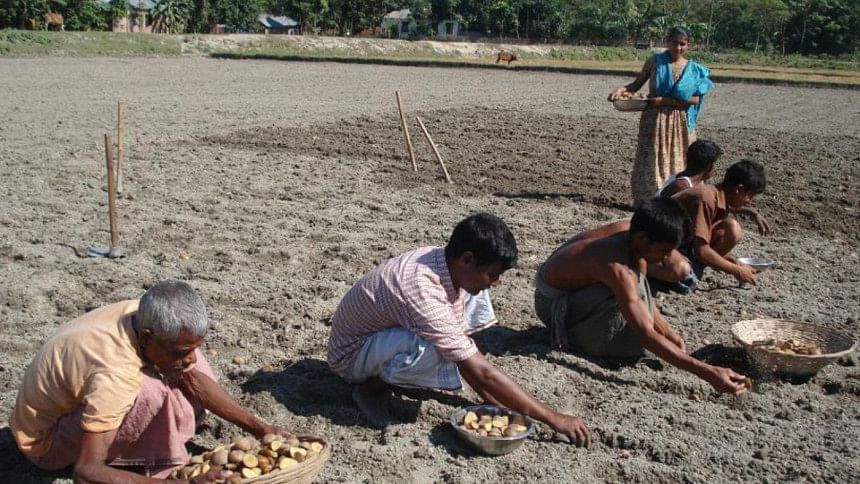 Farmers in Kishoreganj upazila of the district are passing busy days in early cultivation of potato after harvesting short-duration Aman paddy in expectation of good profit.
"This upazila is reputed as an early potato producing area as the land is high and there is little presence of moisture, making it suitable for early cultivation of the crop," upazila Agriculture Officer (UAO) Enamul Huque said.
the normal season for potato cultivation will start from mid-December after harvesting of traditional Aman variety paddy.
"We encourage farmers to cultivate early potato in the interim period between harvesting of Aman in mid-October and cultivation of tradition potato as people in big cities want to buy new crops even at higher price, benefiting the producers economically," he added.
Early potato can be harvested in only 60 days, and farmers can cultivate traditional potato on the same land, making them doubly benefited, the UAO added.
"I cultivated early potato on my three bighas of land as the early harvest will enable me to sell it at Tk 50 to Tk 60 per kg, benefiting me greatly, while farmers usually incur loss by cultivating other crops," said farmer Ayub Hossain, 60, of Chadkhana village.
"Marketing of early potato is profitable as potato traders from the capital and other big cities come to our doorsteps to purchase the crop," said Hatem Ali of Boro Bhita village.
"Many farmers like me will cultivate traditional potato on the same land in mid- December after harvesting of early potato in this ongoing Robi season, benefiting us twice," said Tayeb Ali of Putimari village.
The UNO said his office had set a target to produce early variety potato on 3,500 hectares of land this year, and expressed optimism that farmers might exceed the limit and cultivate the vegetable on 4,000 hectares.
"As per our suggestion, farmers are following this new cropping pattern to cultivate additional crops like early potato and Aus paddy, along with Aman and Boro, in one year, discarding the age-old two crops pattern, said Deputy Director of the district Department of Agriculture Extension GM Idris.