Ex-OC Moazzem gets 8yrs' jail for circulating Nusrat's video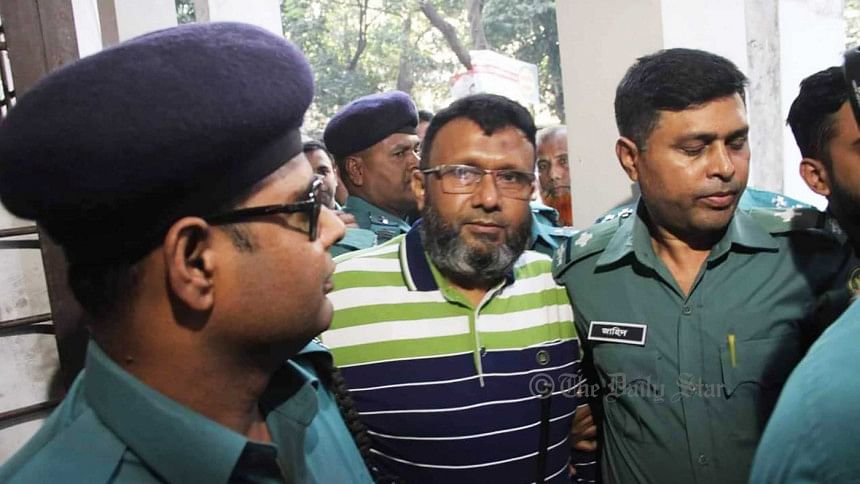 -- Rigorous imprisonment for 8yrs
-- Fine Tk 10 lakh
--In default of fine, 6 months more in jail
-- Fine money to be given to Nusrat's family
-- Moazzem is lone accused
Moazzem Hossain, former officer-in-charge of Sonagazi Police Station, was sentenced to eight years of rigorous imprisonment in a case filed for filming madrasa student Nusrat Jahan Rafi's statement and circulating the video clip on social media without her consent.
Judge Ash Sams Joglul Hossain of the Cyber Tribunal of Dhaka handed down the judgement in presence of the lone accused Moazzem around 2:40 pm.
He was also fined Tk 10 lakh, in default of which he has to serve six more months in jail.
The fine money will be handed over to Nusrat's family, the court observed. 
After the verdict was pronounced, Moazzem's lawyer Advocate Faruk Ahmed said they will appeal with the higher court against the judgement.
Nusrat, a student of Sonagazi Islamia Senior Fazil Madrasa, was set on fire on April 6 -- allegedly for refusing to withdraw a case filed against Feni's Sonagazi Islamia Senior Fazil Madrasa principal Siraj Ud Doula for sexually harassing her.
After fighting for her life for five days, she died at Dhaka Medical College Hospital on April 10.
The same day, Moazzem was withdrawn from his post of Sonagazi Police Station OC, as Nusrat's family alleged that he was not cooperating with them. Moazzem was suspended in May for his negligence in duty over Nusrat murder.
A video clip of the then Sonagazi OC asking Nusrat humiliating questions also went viral on social media, drawing widespread criticism.
Barrister Syed Sayedul Haque Sumon on April 15 filed the case against Moazzem under the Digital Security Act, for circulating the video.
On July 17, the tribunal framed charges against Moazzem in the case.
The Cyber Tribunal on November 20 fixed today (November 28) for delivering the verdict on completion of placing arguments from the prosecution and defense.
The tribunal recorded statements of 12 prosecution witnesses, including complainant, Nusrat's mother, sister and two friends.