Dying Ichamati gets flow as swelling Padma sends water
People celebrate, demand revival of the traditional river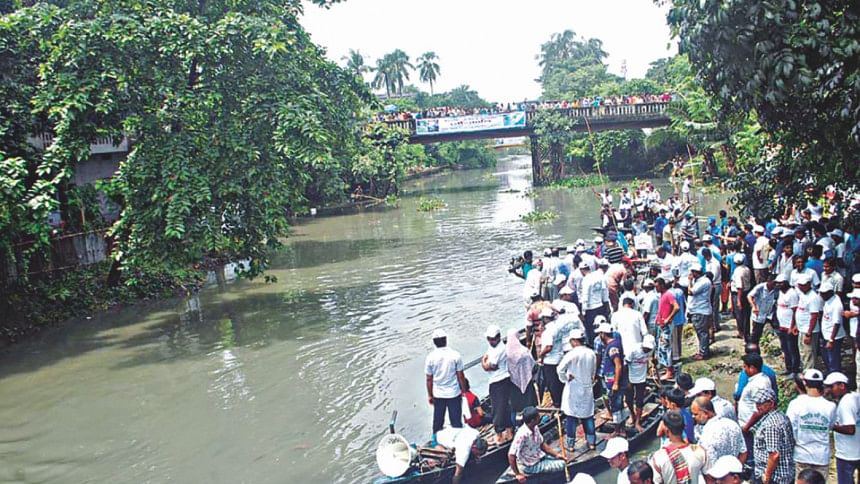 The nearly dead Ichamati river passing through the district town sees flow due to the pressure of the water from the mighty Padma during the ongoing rains.
Delighted over the matter, locals joined boat processions and rallies separately organised by the district administration and 'Ichamati river protection movement' in the town yesterday morning.
They demanded adequate steps to free the river from occupiers and bring back its natural flow by proper dredging.
The 10-km portion of the 52-km-long Ichamati river, flowing through the district town, serves as a link between the Padma and Jamuna rivers, but it turned into a narrow canal due to indiscriminate occupation and lack of proper maintenance during the last three decades, said locals and experts.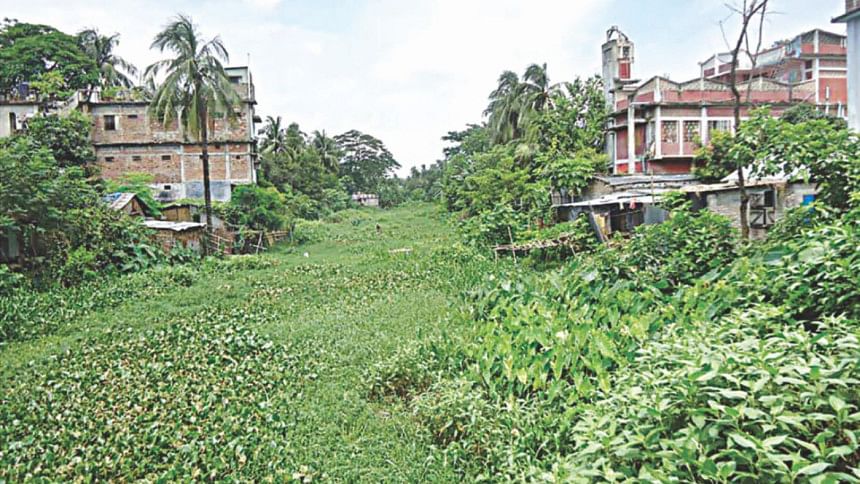 "We are happy to see boat movement on the river after a long time," said journalist Abdul Matin Khan.
Md Rezaul Karim, executive engineer of Pabna Water Development Board, said, "As the mighty Padma continued to swell, we opened sluice gates of the flood protection embankment at Sadhupara in Pabna town last week and so, the rushing water from the upstream brought flow in the dead Ichamati."
"The flow in the dying Ichamati, however, seems a temporary matter.  It will return to its usual position when the water level in the Padma recedes after the end of the rainy season," he added.
Pabna Deputy Commissioner (DC) Rekha Rani Balo along with the local elite as well as a large number of common people joined a boat procession on the Ichamati river yesterday morning.
"We have arranged the programme to create awareness for saving the river. Responding to people's demand, the district administration is working to save the river," the DC said.
Earlier, on Monday, lawmaker of Pabna-5 constituency Golam Faruk Khandaker Prince joined a boat rally at Sadhupara point of the Ichamati river, highlighting the importance of saving the river.
"We have a plan to undertake a mega project to save the river," the lawmaker said.