Dutch woman on quest for family in Bangladesh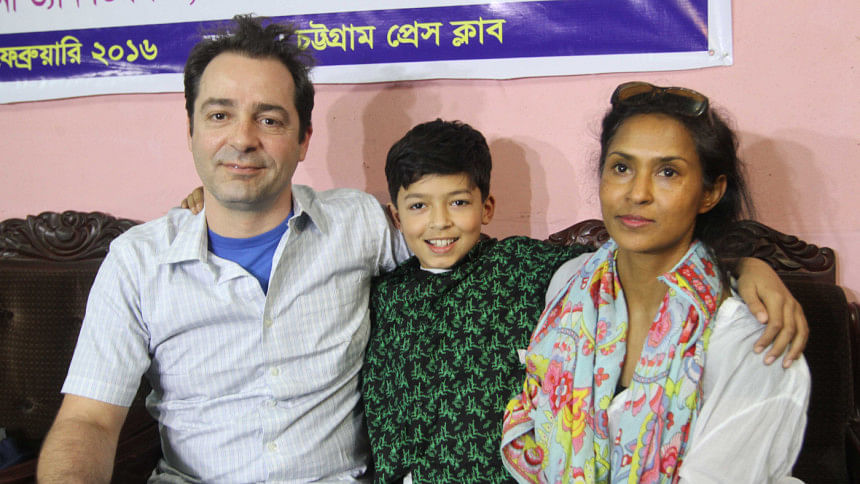 Poverty stricken Rahima Khatun in 1979 was compelled to give up her four-year-old granddaughter Sultana for adoption to a Dutch non-government organisation and was subsequently adopted by a Dutch couple in the Netherlands.
A school teacher by profession, Sultana Ven Der Lest, with her husband Jorif Jacob, a designer, along with their 10-year-old son, Noah Abed Nabila Jacob, arrived in Bangladesh on February 1, 37 years later in search of her biological family.
An affidavit that was made at the time of her adoption shows that her native village was in Dohazari (which was under Patiya upazila at that time) under Chandanaish upazila in Chittagong but it makes no mention of her father or mother's name.
The information is pretty threadbare on the affidavit according to Ismail Sharif, a development activist, there seems to be no mention of the village where she comes from either.
The affidavit, does however mention that Sultana's parents had passed away and it was financially difficult for the grandmother to bring her up on her own.
The family visited Dohazari today and spoke with the upazila nirbahai officer and the police officialsconcerned, said Sharif.
They also organised a press conference at the Chittagong Press Club, reports our Chittagong correspondent.
When talking to The Daily Star, Sultana said she felt a deep connection to Bangladesh, it is her roots. "I have deep connections to my roots and so I have been very keen to come to Bangladesh and try and find out as much as possible about my biological family," she said, adding, "I have yet to know the detail about my village and my parents but I am pretty sure that I will be able to find more information."
"If I fail to explore it this on this visit, I will come back to Bangladesh again and I will make it happen," she told The Daily Star this evening.