Dr Zafar Iqbal's publishers demand justice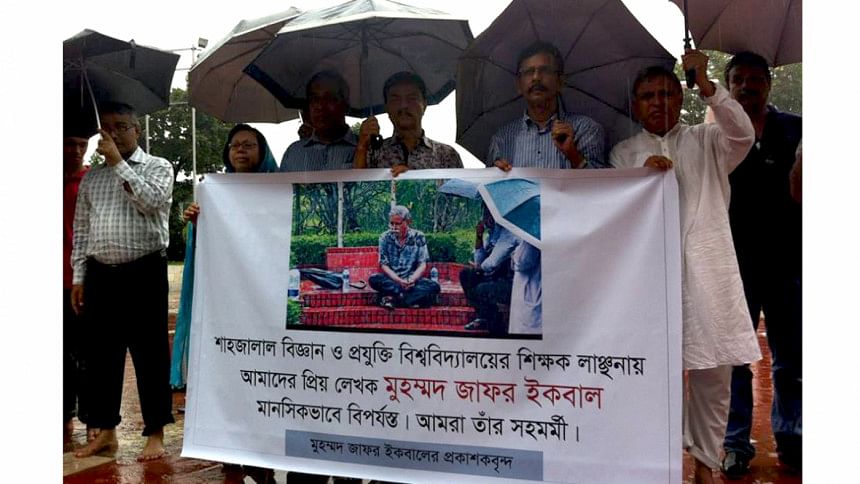 A group of university students and the publishers of noted writer Prof Muhammed Zafar Iqbal today demanded punishment to the attackers who assaulted teachers at Shahjalal University of Science and Technology (SUST).
On Sunday, alleged Bangladesh Chhatra League (BCL) activists swooped on teachers during the latter's pre-scheduled demonstration to stop the SUST vice chancellor from entering his office. Several teachers, including Prof Yasmeen Haque, wife of Zafar Iqbal, were assaulted at that time. 
Eleven publishers, later joined by students under the banner Zafar Projonmo from SUST, Brac and World University, voiced their demand at a human chain programme at 10:00am in front of the Central Shaheed Minar in Dhaka. 
Prof Zafar Iqbal and his wife Prof Yasmeen Haque were mentally traumatised over the teachers' assault incident, Farid Ahmed, a publisher of Samay Prokashon, told reporters.
Expressing their deep shock and anger, the protesters demanded that the attackers be brought to justice.
The attackers – whatever political links they might have – should be brought to justice, said cartoonist Ahsan Habib, editor and publisher of Unmad, popular satire magazine, and younger brother of Zafar Iqbal and prominent writer Humayun Ahmed.
Among others, Dr Mohammad Kaykobad, professor of computer science and engineering, BUET, and Munir Hasan of Mathematical Olympiad participated the human chain.
On Tuesday, SUST authorities suspended four students for their alleged involvement in assault on the teachers demonstrating for the removal of the university's vice-chancellor.
Meanwhile, agitating teachers of the university staged a demonstration on the campus today as part of their three-day programme protesting the assault.