Don't appear for any 'militants', Anisul to lawyers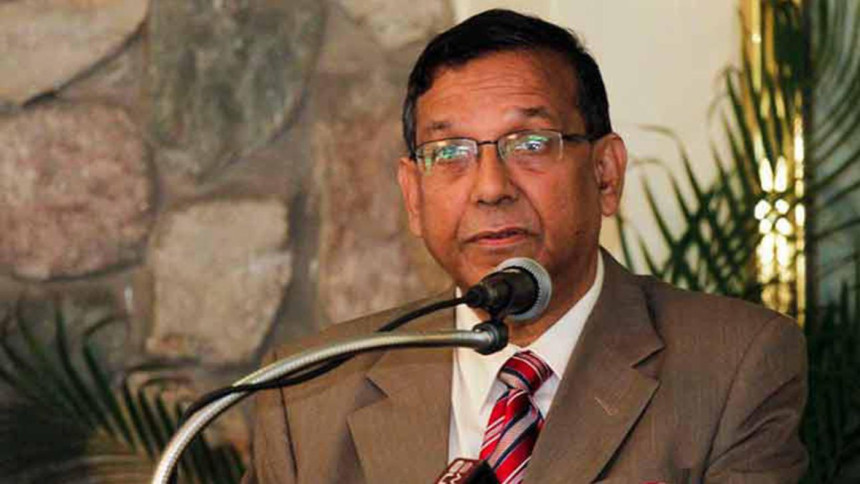 Law Minister Anisul Huq today urged the lawyers not to appear before any court on behalf of the militants in any case filed against them.
"Please, don't appear for the militants, as they are against the country," he said pointing to the lawyers while addressing as the chief guest at a meeting organised by Supreme Court Bar Association at its auditorium in the afternoon on the occasion of National Mourning Day.
About the High Court verdict that scrapped the 16th constitutional amendment empowering parliament to impeach its judges for misconduct or incapacity, the law minister said a petition has been filed with the Supreme Court against the HC verdict.
"I will not make any comment about a sub-judice matter. I can assure we will go back to the 1972 constitution," Anisul said.
Following a writ petition, on May 5, a three member-special HC bench by majority view declared the 16th amendment to the constitution "illegal" and "unconstitutional".
Today, the HC released the text of a part of the verdict delivered by the majority judges of the bench.
Earlier on May 8, the government filed a petition with the SC seeking a stay on the HC judgment.
SCBA President Yusuf Hossain Humayun presided over the meeting while Attorney General Mahbubey Alam, Bangladesh Bar Council's Vice Chairman Abdul Baset Majumder eminent legal experts M Amir-Ul Islam and AFM Mesbahuddin also spoke.