Disability not a barrier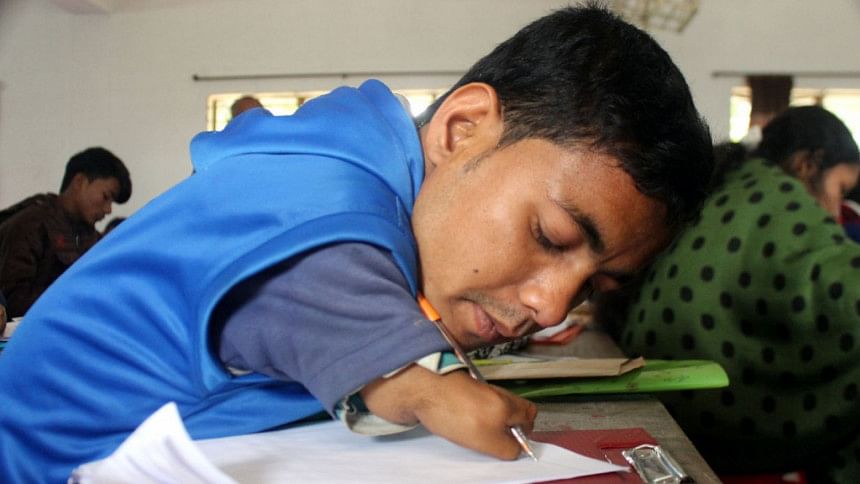 Defying his severe physical disability a schoolboy, who was born with one hand missing and the other badly deformed, is appearing in the Secondary School Certificate (SSC) examinations at Pirganj Government Girls' High School centre in Pirganj upazila headquarters.
The boy, Ekramul Haque, 16, is the youngest among four children of Najib Uddin, 55, a farm labourer at Mallikpur village in the upazila.  
"Ekramul was born without the left hand while his right hand is very short and has only two fingers. As he grew up, he showed keen interest in learning and expressed eagerness to go to school. I admitted him to Mallikpur Brac School," said Najib Uddin.
After completing primary education successfully, Ekramul was admitted to Jabarhat Hemchandra High School in the upazila, from where he is appearing in the SSC examinations from humanities group, Najib added.
During a visit to the examination centre yesterday, this correspondent saw the boy writing answer scripts with two fingers of the deformed right hand.  
Ekramul said he got GPA-5 in Primary Terminal examinations in 2012. After successful completion of JSC examinations in 2015 he continued education and is appearing in the ongoing SSC examinations.  
Talking to this correspondent, he said his elder brother and two sisters could not cross primary level due to financial constraints, but he is continuing education by earning in various ways.
"As we have no farmland, my father and brother work as farm labourers. Sometimes they give my educational expenditure from their earning," he said. "As I am unable to do hard work, I rear chickens and ducks to manage the expenses for my education. Sometimes, villagers come forward to help me continue my studies," he added.   
"My school teachers gave all-out support for continuation of my education. Despite the physical barrier, I want to do higher study in a good educational institution so that I can get a government job, which will help me look after my poor parents. I am thinking about how to manage the education expenditure after the SSC," Ekramul said.
"Ekramul has keen interest to continue education despite his physical disability. He is a well-behaved boy," said Ekramul's classmate Manuel Tudu.  Hemchandra High School Headmaster Gopen Kumar Malakar said Ekramul is always attentive to studies and achieved good results in the school examinations, although he has to write with a defective hand. Headmistress, also centre secretary of Pirganj Girls' High School, Shamsun Nahar said the invigilators are careful so that he does not face trouble in the examination room. He is provided additional thirty minutes for each exam paper due to his disability, as per the rule.