Dinajpur, Joypurhat: Heyday for basket makers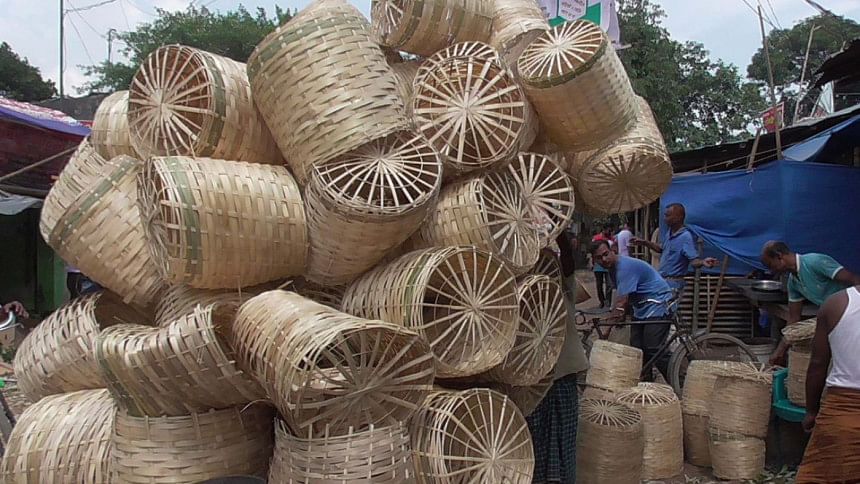 For residents of several villages in Dinajpur and Joypurhat, this time of year is the season of baskets. As mango and other summer fruits ripen, wholesalers rely on the hand woven bamboo baskets known as either 'tukri' or 'jhuri' to transport fruit across the country. The baskets are also suitable for shipping vermicelli, the pasta used to make a special delicacy locally known as semai. With the peak time of fruit harvest, weavers are more than busy, trying to make the most of brisk sales.
"We hope to exploit the opportunity to the maximum," says one weaver, Bijoy Mahali from Barapukuria village in Dinajpur's Parbatipur upazila. "Baskets are in such high demand at the moment. We have to use our time wisely."
"For these three months we always make baskets," says Nikhil Chandra from Khanjanpur villagein Joypurhat Sadar upazila. "Weaving baskets of various sizes is a good way to earn additional income. It's something our family has been involved with for the last fifteen years."
According to weaver Amit Mondal from Uchay village in Joypurhat's Panchbibi upazila, profit on a single basket ranges from Tk 20 to Tk 300 depending on size. "One person can make between five and ten baskets of different sizes per day," he says. "My target is to earn Tk 30,000 from basket-making this season."
In local markets the baskets retail for between Tk 60 and Tk 600.
Yet the traditional industry is not without challenges, primarily caused by the rising price of bamboo. "Bamboo has become rarer. We collect it from as far afield as Rangpur, Kurigram and Nilphamari these days," says Khokon Mondal, a weaver from the Kasba area of Dinajpur town. "We also face increasing competition from plastic baskets."
According to one horticulture department official in Dinajpur, Imrul Hasan, around 5,000 tonnes of litchis and 10 lakh tonnes of mangoes are produced in that district, of which around ninety percent is sent to other parts of the country. Around 2.5 lakh baskets cover the transport logistics."Bamboo baskets are affordable and well-suited to transporting fruit," he says.
In addition, the baskets are also transported for sale across North Bengal, especially in neighbouring districts that have their own fruit harvests to manage.
Approximately 3,000 families in the two districts are involved in basket weaving, pursuing a livelihood that for many families has spanned several generations. But with rising bamboo pricesand increased competition, many are now calling for soft loan facilities from the government as additional support for the trade into the future.
"It's true that the bamboo basket weavers have stuck with their profession despite some hardshipand without any government support," admits Aktarul Alam Chowdhury, deputy manager of the Bangladesh Small and Cottage Industries Corporation in Joypurhat. He assured support for the weavers.