Dhaka girl made Danish 'shadow ambassador' for Women's Day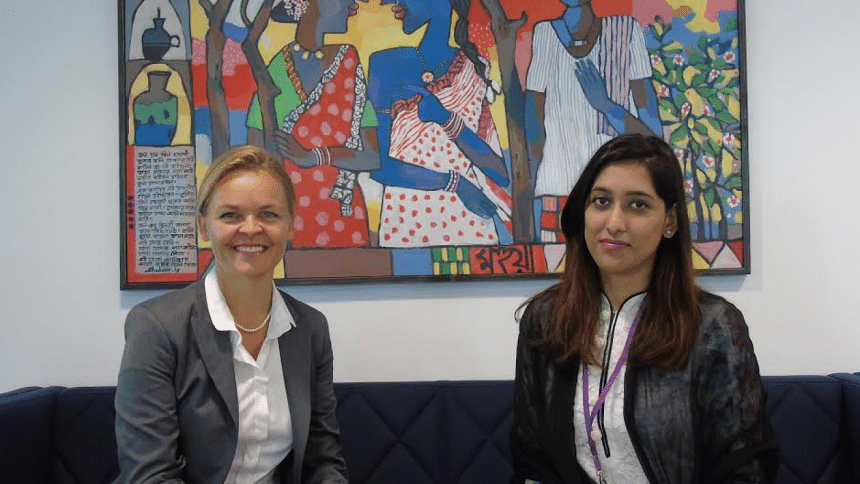 A girl from Dhaka has been selected to become the shadow ambassador for a day with the Embassy of Denmark in Bangladesh.
Talbia Tanvir, a 23-year-old economics student from Dhaka, visited the Embassy for the first time today to prepare for her task and next week she will shadow Ambassador Hanne Fugl Eskjær of Denmark for a full day.
She was selected from a large number of applicants for the Shadow Ambassador Competition which is a part of the celebration of International Women's Day 2016, according to a press release of the Danish embassy issued today.
The embassy has created this unique opportunity for a young Bangladeshi woman to get first-hand experience of life as a diplomat to promote the cause of women leadership.
The shadow ambassador will discover how a real life embassy operates and how politics, development and trade come together in a truly international environment. The idea generated much interest among the young women in Bangladesh and several embassies run by women ambassadors in Bangladesh have decided to join the initiative.
Talbia, a private university student, is very excited to have received this opportunity. She is keen to maximise learning from this unique occasion and strengthen her network. She also has big ideas – "I believe there is a need to reform the existing educational and social structures that often leave women behind," the press release said.
Danish Ambassador Hanne Fugl Eskjær is equally looking forward to having Talbia as a shadow Ambassador for a day. She believes this initiative reflects the Danish priority of promoting women's rights and economic empowerment in Bangladesh, it adds.
She also feels that this opportunity will be an example for other aspiring young women to step up and be leaders in their own ways. She says: "Even though it's a small initiative, it will give an individual some real life practical experiences which may build a bridge between their aspirations and achievements and hopefully will inspire many others like them."