Daily Star's role earns kudos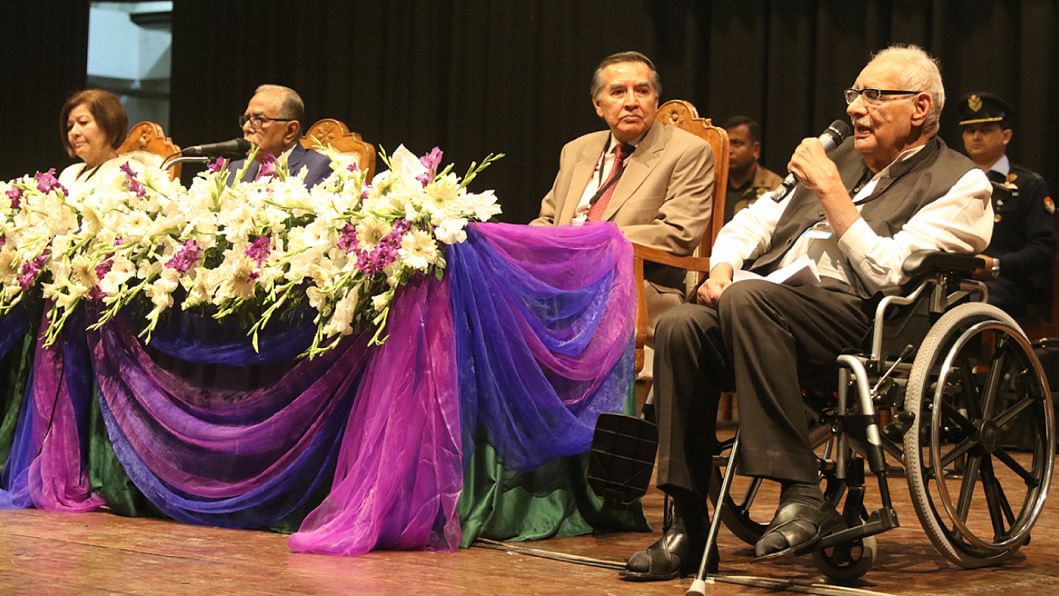 Dignitaries from home and abroad today hailed The Daily Star for its unflinching commitment for journalism and the development of Bangladesh.
Talking at a programme organised at Osmani Memorial this morning in attendance of President Abdul Hamid to mark the newspaper's 25th anniversary, they said The Daily Star has earned people's trust as a very credible newspaper not only in Bangladesh but also in the region.
Hailing The Daily Star for introducing a healthy trend in journalism, Prof Anisuzzaman, who was awarded at the event for his contribution to the country, said the newspaper has talked about all people irrespective of party affiliations and views.
"It has embraced truth and proved its courage."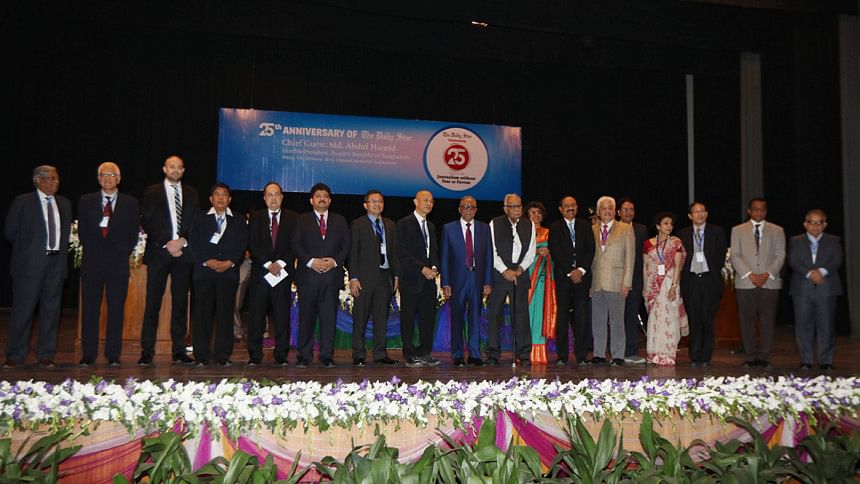 "The only partiality it has shown is that for the country's War of Liberation. So, when recognition comes from an institution like this, it becomes a more meaningful," said the Professor Emeritus of Dhaka University, who was honoured with Independence Award.
Talking on behalf of Asia News Network – a network of 22 newspapers published from 20 Asian countries, Suthichai Yoon, founder and chief adviser to Nation Multimedia Group of Thailand expected hope that The Daily Star would continue to work as the conscience of the society.
Hailing The Daily Star for "protecting independence and professionalism of the press", N Ram, chairman and publisher of The Hindu group of newspapers said the newspaper, with its far-sightedness, seems to be on course to serve as a responsible newspaper.
Eminent Indian columnist Kuldip Nayar recalled his days with Bangabandhu Sheikh Mujibur Rahman in the post-independence Bangladesh.
"Coming here to celebrate The Daily Star's 25th anniversary, I have the impression that Bangladeshi is a very mature and confident nation, giving lesson of secularism to whole Asia. And I have seen how Daily Star has contributed not only to democracy but also to secularism."