Attack during Sholakia Eid prayers, 4 killed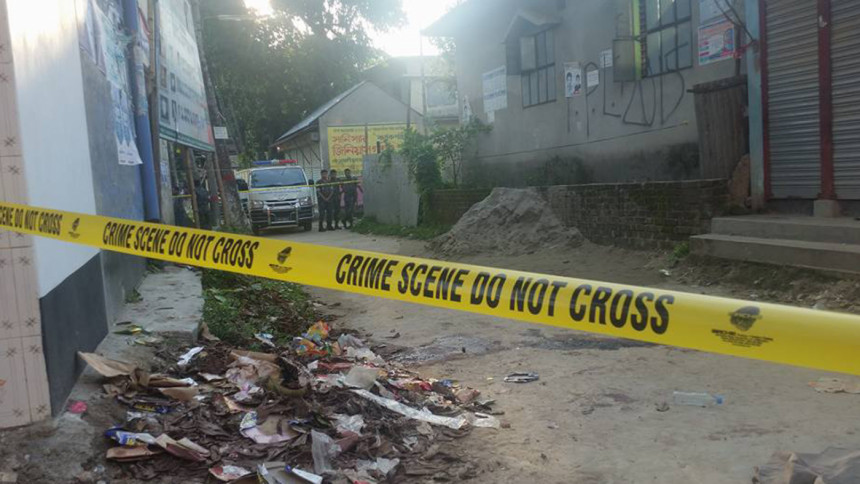 Four people, including two policemen, a woman and a suspected assailant, died in the attack near Sholakia Eidgah where hundreds of thousands had gathered for Eid congregation this morning.
- 2 policemen, 1 woman, 1 'attacker' killed
- Cops, miscreants traded gunfire for hours
- About 300,000 Muslims were trapped in ordeal
- 'Seven attackers', bombs blasted, sharp weapons wielded
- 1 held, search conducted in the area
The incident, taking place within a week of the Gulshan restaurant attack, happened around 9:45am this morning at Sholakia, where hundreds of thousands gather each year for Eid congregation.
Abu Sayem, additional superintendent of Kishoreganj police, told The Daily Star that four – including two police constables, a woman and a miscreant – died at scene. "One suspect has been held, about 13 injured."
Police had cordoned off the area and checking door to door in search of the culprits, Tofazzal Hossain, an assistant superintendent of district police, told The Daily Star.
Witnesses said over 300,000 Muslims, who had gathered at Sholakia to offer Eid prayers, were trapped in the middle of sporadic gunshots being fired between cops and miscreants.
GROUP OF 6-7 YOUTHS LED THE ATTACK
According to what could be gathered primarily from local sources, a grop of six to seven people led the attack on policemen when the law enforcers were frisking people into the Eidgah ground.
They attacked the policemen with sharp weapons and blasted some bombs at scene.
Kishoreganj Sadar Police Station Officer-in-Charge Mizanul Haque told The Daily Star that a constable of his barracks, Jahirul, died in the attack and several others were injured.
Additional police forces were immediately dispatched at scene. The law enforcers compelled the miscreants to a retreat into an alley adjacent to Azimuddin School – within a kilometre's perimeter of the Eidgah.
Mohmmad Anwar Hossain Khan, police superintendent of the district, told The Daily Star that police were engaged in a confrontation with the miscreants. 
Later, another police Constable Ansarullah, hailing from Netrokona, died at Mymensingh Medical College Hospital, Additional police SP Abu Sayem told The Daily Star. "One woman also died."
Five other policemen were said to have been flown to Dhaka for better treatment.
Identities of the two other casualties could not be confirmed.