Cop killed in attack on patrol team in Ashulia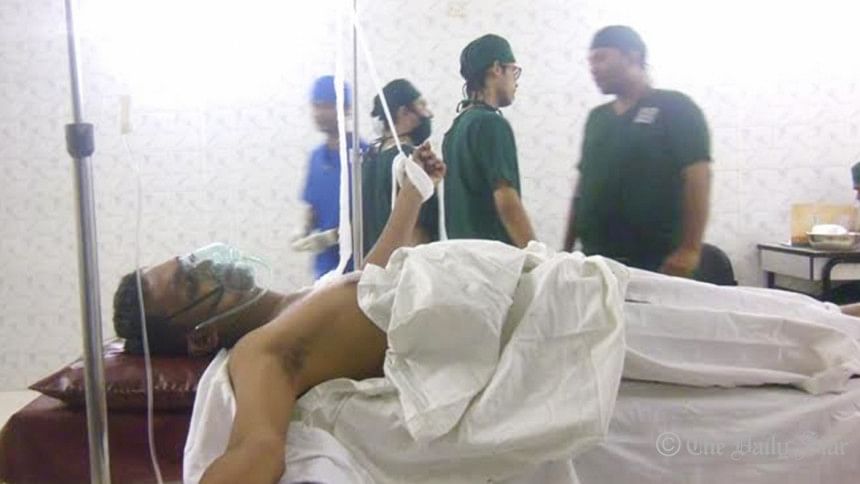 - Seven assailants in motorbikes attack
- Two cops injured, one of them dies
- Home minister visits the injured
- Injured Nur-e-Alam's left hand at risk
A police constable was stabbed dead after unknown assailants attacked a patrol team of Ashulia industrial police in Savar, on the outskirts of Dhaka today.
The victim was identified as Mukul Hossain, 23, our Savar correspondent reports quoting police. Another constable was also injured in the attack.
The attack took place in Baroipara area on the Dhaka-Tangail highway around 7:45am, said Nazmul Hassan, assistant superintendent of Ashulia police.
The policemen were preparing to set up a check post there when a group of about seven people, riding three motorbikes, swooped on them with sharp weapons, he said.
Both Mukul and his colleague Nur-e-Alam were injured on the spot. They were later rushed to Enam Medical College Hospital where Mukul succumbed.
Meanwhile, talking to The Daily Star this evening, Zahidur Rahman, director (PR) of the hospital, said Nur-e-Alam has undergone a surgery this afternoon.
"His left hand is at risk. We are trying hard not to cut off his hand," Zahidur quoted the doctors as saying.
No case was filed until last reported around 08:45pm.
Home Minister Asaduzzaman Khan visited the injured attending treatment at the hospital around 11:15am, hours after the incident.
On October 22, an assistant sub-inspector of police died after unknown assailants knifed him at a check post in the capital's Gabtoli.