Classes under open sky
The Jamalpur primary school was devoured by the Jamuna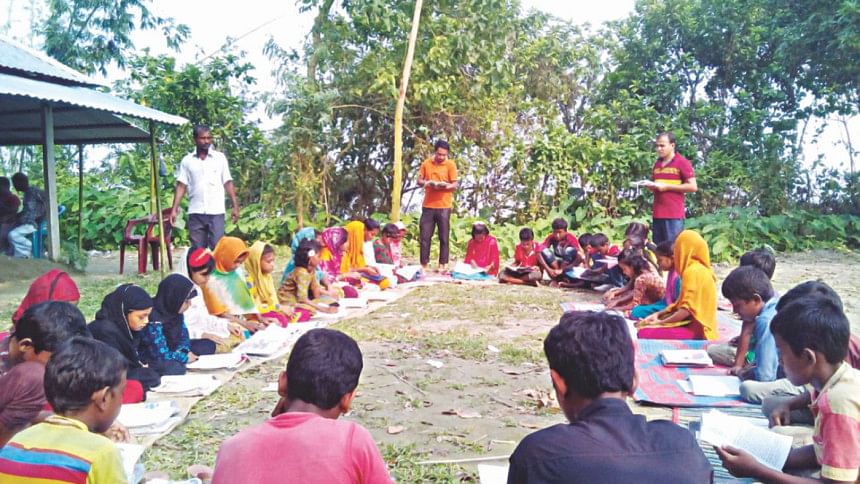 A government primary school in the district's Sarishabari upazila has been holding classes under the open sky as the schoolhouses along with the land were eroded by the Jamuna river during flood in late July.
Two buildings of Dakatia Menda Government Primary School, which was established in Dakatia Menda village in 1938 and nationalised in 1973, were eroded on July 25, and the land followed a few days later, resulting in suspension of classes for 216 students for a week, teachers said.
"We were able to start taking classes in a rented house on August 1, which was also washed away after two weeks," said assistant teacher Arif Hassan.
The school managing committee (SMC) failed to find another house where they could take classes, he added.
Finally, they started holding classes under the open sky on August 20 on land belonging to a mosque so that the kids, especially examinees of Primary School Certificate, whose exams begin on November 20, could continue their lessons, Arif said.
"Three teachers have been conducting classes in two shifts," said acting headmaster Muhammad Selim Badsha, adding that this is hampering the education of the kids.
"A number of students, particularly pre-primary to Class II, remain absent due to the sun or rain, as a result, they are lagging behind in learning their lessons," Badsha said.
The headmaster told this correspondent that he wrote to the district primary education office over two months ago seeking money to build a tin-shed on 33 decimals of land, which is expected to be donated by SMC President Mahir Uddin, a farmer.
"The school has been contributing much to educate children of disadvantaged families living in the Jamuna basin areas for 80 years, but erosion has left our children's education in uncertainty," Mahir said.
"I am ready to give the land free of cost for construction of a school whenever the authorities want, but they have not yet registered the land for the school," he added.
"We have arranged the money and hope to go ahead after getting the land registered," district Primary Education Officer Shahidul Islam said.