IS claims Ashulia checkpost attack: SITE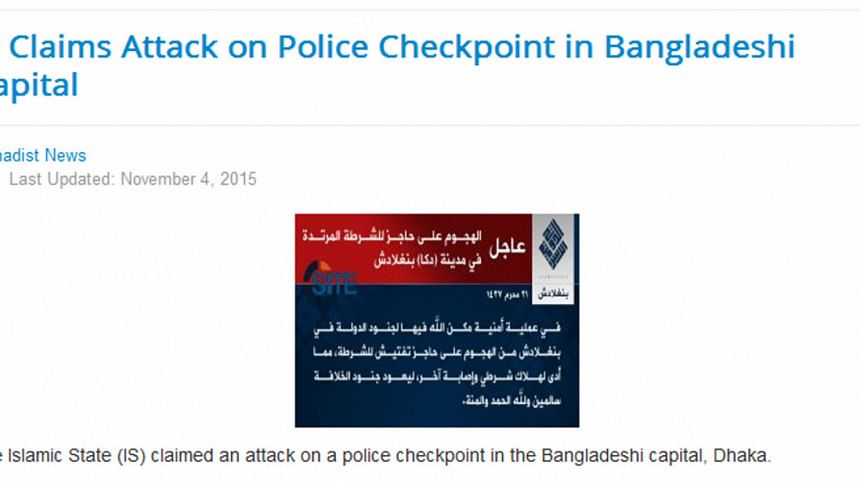 Islamic State (IS) has claimed the responsibility for the attack at a police checkpost at Ashulia on the outskirts of Dhaka yesterday that left a police constable dead, US-based SITE Intelligence group says.
"The Islamic State (IS) claimed an attack on a police checkpoint in the Bangladeshi capital, Dhaka," SITE Intelligence group reported hours into the brutal attack that also left another constable injured critically on Dhaka-Tangail highway.
Meanwhile, police yesterday said they didn't have any clue to the motive behind the attack.
The incident took place hardly two weeks after an assistant sub-inspector of Darus Salam Police Station was stabbed to death by a youth at a checkpoint in the capital's Gabtoli.
The claim however is reported only by SITE Intelligence Group.
Rita Katz, director of SITE Intelligence Group, posted in her official twitter account and the group's web page that IS claimed responsibility for the September 28 murder of Tavella, the October 3 killing of Japanese citizen Kunio Hoshi and bomb attack at Shia headquarters on October 24.
Bur the group and its director never mentioned exactly where and how IS made the claims.
For the first time since the first reporting on IS claims, SITE Intelligence offered some explanation on October 27 when it said the claims had been authenticated and found credible by SITE's rigorous verification process.
"...all of the aforementioned claims were also featured in numerous IS media channels, including Telegram Messenger and the group's publically available al-Bayan reports. Citizens and government officials in Bangladesh can even read the claims in their own language on a pro-ISIS Bengali blog," the group said in a press release where it said it stood by its reports on the IS claims.
However, investigators in Bangladesh said they are yet to ascertain the authenticity of the IS claims. The government maintains that there was no organisational presence of the Middle East-based terror outfit in the country.
Bangladesh Home Minister Asaduzzaman Khan Kamal repeatedly said that there were no presence of the IS in Bangladesh.
"Our intelligence agencies are sure that those [the claims] were not uploaded on the IS' official website, but from somewhere else," he told reporters on October 27. Those who claim to be IS members in Bangladesh might be from militant outfits Harkat-ul-Jihad al-Islami, al-Qaeda and the Jama'atul Mujahideen Bangladesh.
On October 27, a US State Department spokesperson said the US was not certain about the presence of Islamic State in Bangladesh.