CJ's post won't remain vacant for long: Law minister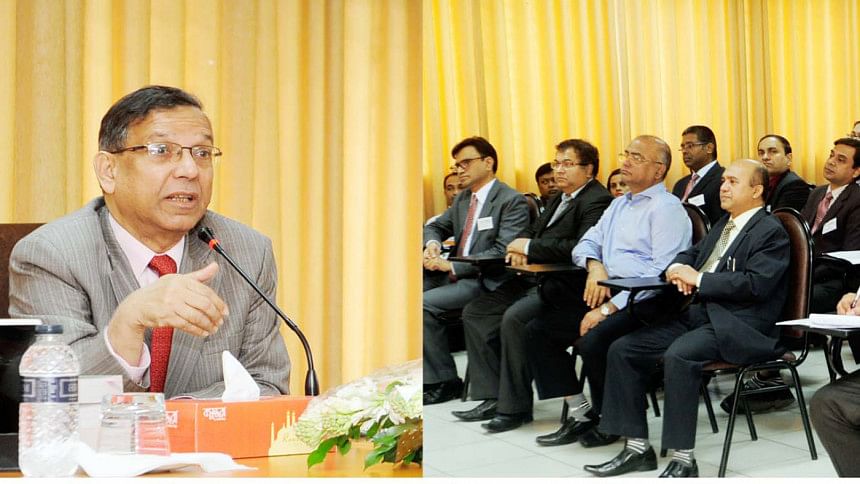 Law Minister Anisul Huq today said the president certainly will not keep the post of chief justice vacant for long.
"And therefore, there is no scope for creating any controversy over this issue," he said.
He was talking to reporters after inaugurating a training programme for the additional district and sessions judges at the Judicial Administration Training Institute in Dhaka.
The post of chief justice has been lying vacant after Surendra Kumar Sinha resigned from the post on November 10. Earlier, he went on a leave on health ground on October 3.
Justice Md Abdul Wahhab Miah, the senior most judge of the Appellate Division of the SC, has been performing functions of the chief justice under Article 97 of the constitution.
Article 97 says, "If the office of the Chief Justice becomes vacant, or if the President is satisfied that the Chief Justice is, on account of absence, illness, or any other cause, unable to perform the functions of his office, those functions shall, until some other person has entered upon that office, or until the Chief Justice has resumed his duties, as the case may be, be performed by the next most senior Judge of the Appellate Division."
Anisul, who is also an expert on criminal laws, delivered a lecture on the Anti-Corruption Act, 2004, Criminal Law (Amendment) Act, 1958 and Prevention of Corruption Act, 1947 at the training session today.